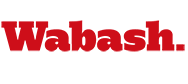 More than 300 Wabash Graduates on Campus for Big Bash
by Howard W. Hewitt

June 2, 2006

The Biggest Big Bash ever got underway Friday morning with old friends, old times, and a round of golf.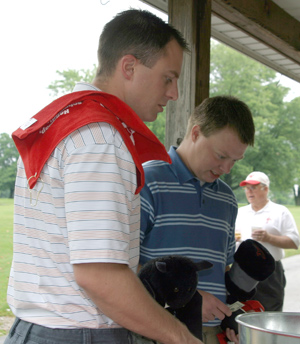 More than 300 Wabash College alumni are expected on campus for a weekend of fun, memories, and hearing from their fellow graduates of a broad range of topics in colloquium speeches. (Click here to see a photo album from Friday morning activities.)
More than 70 Wabash men enjoyed the camaraderie of a round of golf at the Crawfordsville Country Club. The College Bookstore and Scarlet Inn were popular stops as well after registering in Sparks' Great Hall.
The colloquiums run Friday and Saturday with one of the highlights being David Kendall '66 talking about his 20 years in Washington D.C. Kendall is an expert in intellectual property law and perhaps best known as President Clinton's attorney.
Another weekend highlight is the 11 a.m. alumni Chapel Sing on the steps of the Wabash College Chapel. Each of the reunion classes will take the steps to sing "Old Wabash."
To see a full schedule and details, click here.
In photos:
Above, Jake Bradley, Indianapolis, and John Paul Biehn check in at the golf outing. Both men are members of the Class of 2001.
On homepage: It's been a long time catching up for 1996 classmates Jonathon Bradley, Lafayette, and Trent Newcomb, Plymouth.