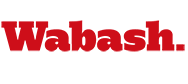 Spring 2006: From Center Hall
May 24, 2006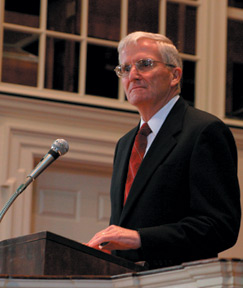 "Against the odds" and "moving in the direction of the difficult" describe the founding of Wabash College and many church-related colleges begun in the first half of the 19th century. Founded as the frontier pushed westward, they were designed to preserve civilization by educating teachers and preachers. The early years saw those colleges fighting for survival against famine, pestilence, and the ever-present risk of fire. Wabash was no exception, as we know from These Fleeting Years. (Boxed sets of this volume along with Wabash on My Mind are still available in the College bookstore.)
The colleges that did survive into this century have always been threatened to some extent or another. Most were challenged by wars that depleted the student ranks, as Wabash was in the Civil War and again in the Second World War. But colleges were both resilient and able to bend with the times. President Frank Sparks saved Wabash by linking it to the United States Government's training of military personnel. We can only imagine how difficult that must have been for a fiercely independent businessman, but he knew how to separate the merely important from the essential in a time of crisis.
The College's physical survival is no longer a threat thanks to the generosity of thousands and thousands of alumni combined with the prudence of the Board of Trustees. Yet we continue to move in the direction of the difficult.
It is difficult to remain a college for men, but even more difficult to remain a liberal arts college. Remaining a college for men depends on a simple market test (simple, but not easy, as Dean of Admissions Steve Klein will attest): either we enroll a sufficient number of qualified and talented young men, or we don't.
The real challenge is much more daunting. The world has all but turned its back on liberal arts education as we have known it. Vocational training under a wide variety of guises has crept, or galloped, in almost everywhere. Our faculty have the ability to harness technology intelligently to put it in the service of student learning, and the Center of Inquiry in the Liberal Arts has moved to the forefront of the effort to measure a liberal arts education, going beyond anecdotes to data that skeptics will find more believable. So, help is on the way, but staying the course will be hard in the short run.
This is where you come in. I have heard over the last 13 years wonderful stories and testimony to the transformative power of the liberal arts. Your letters, phone calls, and visits have helped me through the difficult times and made the good times among the happiest of my life. As I move into a new season, I urge you to keep sending these stories to President-elect White, but don't let the stories stop there. Tell the faculty what you have told me: You remember your teachers fondly and the liberal arts education you received at the College has made all the difference in your lives. This message is ultimately what will sustain them to continue, against the odds, to move in the direction of the difficult.
Contact President Ford at forda@wabash.edu