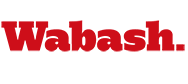 Wabash College Glee Club Touring United Kingdom
by Howard W. Hewitt

May 17, 2006

The Wabash College Glee Club is off to the United Kingdom this week for a series of concerts.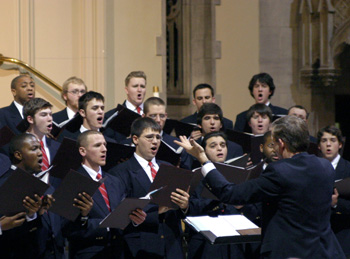 The trip begins in Cardiff, Wales, but the guys won't have much time before they put on their Wabash ties and start performing. Their first concert is in the Llandrindod area where they will perform with the Builth Wells Male Voice Choir.
Be sure to check the Wabash home page to follow the men through their adventures and experiences. The students will be writing blog entries throughout the trip. Wabash Professor of Chemistry Emeritus John Zimmerman is a long on the trip and will be documenting the events through his camera's eye.
From there the 30-plus members will travel north to Flint, with stops to visit Erd dig House and Llangollen. A performance with the Flint Male Voice Choir caps the day.
On Sunday the group participates in morning worship service at Caldy Valley Church in Chester then will enjoy the rest of their day viewing the city's architecture and half-timbered buildings.
During the coming week they'll head toward North Wales and Snowdonia National Park and while there will perform at Electric Mountain with the Cor Meibion Dyfryn Peris Choir.
The Glee Club will perform at York at St. John's College, at the St. Giles Cathedral in Edinburgh, and during morning worship at St. Andrew's and St. George's Church in Edinburgh. The final performance will be at the Memorial Chapel at the University of Glasgow.
The tour will find its way then to Manchester, York, Edinburgh, Scotland, and Glasgow before heading back home.