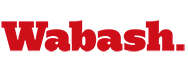 Fantastic Friday Sends Wabash to Second at NCAC Track Championships
by Brent Harris

May 6, 2006

Ten All-Conference performances by members of the Wabash track and field team lifted the Little Giants past Wittenberg and Ohio Wesleyan into second place at the finals of the 2006 North Coast Athletic Conference Track and Field Championships Friday afternoon in Delaware, Ohio.

"I'm extremely proud of the way we fought back as a team," Track and field coach Rob Johnson said. "We knew going into the meet it was a three-team race for second. Allegheny just has too much depth. We knew as a coaching staff we don't have the horses to stay with them yet. With the meet coming down to the final events, our guys are to be commended for the way they battled all the way to the end to take second."

Two Little Giants in particular - sophomores Bart Banach and Geoff Lambert - were recognized by the coaches for their outstanding effort. Banach was named the NCAC Men's Sprinter/Hurdler of the Year, while Lambert received Men's Middle Distance/Distance Runner of the Year honors.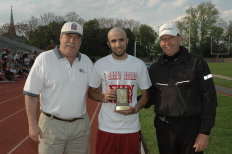 Lambert secured his Middle Distance/Distance award by winning the 800-meter run, breaking one of the oldest NCAC track and field records of the meet with a time of 1:51.73. His finals time easily broke the NCAA Championship provisional qualifying mark, and was only 4/10ths of a second away from an automatic berth at the championship meet later in May. Lambert won by more than three seconds in the two-lap event, breaking the previous meet record set by Gary Tressler of Case Western Reserve University (1:53.78 in 1988).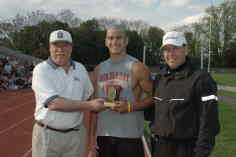 Banach earned All-NCAC honors after winning the 100-meter dash with a finals time of 11.11. Teammate Mike Russell also turned in an All-Conference run, finishing third (11.31). Freshman Ja'Michael Hill added a seventh, crossing the finish line in 11.52. Banach came back later in the day to finish second in the 200-meter dash (22.34). Russell was fourth (22.64), while Hill took seventh (23.04).

The trio of Banach, Russell, and Hill were joined by junior Nathan Bates in the 4 X 100-meter relay. The group finished first in the finals (42.52), giving Banach his third All-NCAC award. Banach, Russell, and Bates combined with Lambert in the 4 X 400-meter relay in the final event of the meet. The quartet won the race easily, finishing with a time of 3:20.92 with a gap of three seconds over the second place team from host school Ohio Wesleyan University.

Bates took his third outdoor 400 meters title in as many years to earn All-NCAC honors. The junior, who has battled a leg injury much of the outdoor season, outtouched Allegheny's Aaron Rape in the finals to finish first with a time of 49.32.

Russell, entering the meet as the defending Sprinter/Hurdler of the Year, captured the conference title in the high jump. The sophomore cleared 6 feet, 2-3/4 inches to add ten points to the Wabash team total. Freshman Andrew Rode just missed a place on the All-NCAC team in the high jump, but had a solid performance after finishing fourth with a final height of 5 feet, 11-1/4 inches.

Jon Reidy was third in the hammer throw, collecting All-NCAC honors after a throw of 150 feet, 7 inches while breaking his own Wabash record. Dennis Frazee finished second in the 5,000-meter run, crossing the line in 15:29.00. The Little Giants also scored three points in the 3,000-meter steeplechase while Sam Compton-Craig finished seventh (9:47.03) and Dustin Beck grabbed eighth place (9:52.93).

Wabash, fourth after the first day of competition in the team scoring, raced past eventual fourth place team Wittenberg (91 points) and host Ohio Wesleyan (132) to finish second with 135 points. Allegheny won the team title with an impressive 237-1/2 points. Wooster (62-1/2), Denison (59), Oberlin (34), Kenyon (26), Earlham (21), and Hiram (21) rounded out the final team scoring.

Photos - (top left) North Coast Athletic Confernece Executive Director Dennis Collins and Tom
Mulligan, Hiram Athletics Director and liaison for track & field, with Wabash sophomore Geoff Lambert as he receives the NCAC Men's Distance/Middle Distance Runner of the Year Award.

(top right) Collins and Mulligan with Bart Banach, the NCAC Men's Sprinter/Hurdler of the Year.




Results: NCAC Outdoor Track and Field Championships - Second out of ten teams Game Stats