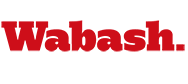 Cleveland Alumni Welcome O'Rourke
by Michael Warren

April 25, 2006

Professor Emeritus Joe O'Rourke H'65 visited the Cleveland area on Tuesday, April 25 and gave a presentation titled "The Untold Tales of Wabash" to alumni, parents, and friends.

Following a reception and dinner, O'Rourke began discussing the importance of all of us sharing our stories of Wabash. He told stories, showed a video, and finished the evening by giving all in attendance an assignment. Assigned complete with famous Wabash blue books, he asked each of them to share their Wabash stories to be compiled for a book to be written on the second hundred years of Wabash.

Thanks to all of those who spent their evening celebrating Wabash especially Page Stephens '65 and his wife Penny O'connor for making all the arrangements as well as Duane Hile '67 for assisting with the evening.