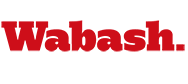 President Ford to Speak in Chapel
by Jim Amidon

April 19, 2006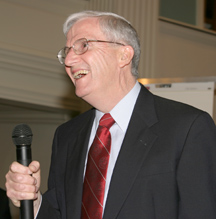 President Andy Ford will be the Sphinx Club's guest speaker in Chapel on Thursday, marking the final time in his 13-year presidency that he'll have the chance to address the entire student body and campus community. Ford's remarks are entitled "Transitions."
Chapel begins at 11 a.m. Thursday morning; coffee, juice, and doughnuts will be available prior to Chapel.
Ford announced last May that the 2005-2006 academic year would be his last at the helm. He and his wife, Anne, will move out of Elston Homestead in early June and move to Chicago. President Ford plans a sabbatical next year and hopes to do some writing and working with academic consortia, while spending plenty of time with his two grandchildren, Elsa and Andrew.
The title of Ford's speech, "Transitions," seems especially appropriate. Wabash will go into the next school year with a new president (Dr. Patrick White), a new Dean of the College (Dr. Gary Phillips), and new chief financial officer. In addition, Wabash will have new leaders at the helm of Lilly Library and Campus Services. Meanwhile, for Ford, next year will mark the first time since he began college at Seton Hall in 1962 that he will not be directly involved with a higher education institution.
During President Ford's Wabash tenure, the College has nearly doubled its endowment to more than $325 million; built or renovated a dozen buildings; entered the North Coast Athletic Conference; established the Wabash Center for Teaching and Learning in Theology and Religion and the Center of Inquiry in the Liberal Arts; raised a record $136 million in the Campaign for Leadership; and established unprecedented research and business internships, immersion learning trips, and faculty development funds.
The Wabash community will have a final opportunity to say goodbye to the Fords at the Saturday evening banquet during Commencement Weekend, when the Class of 2006 and Fords will be saluted.