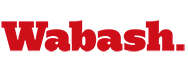 Music's Spring Spotlight Concert Tonight
by Karen Handley

April 17, 2006

Get directions to Wabash College Fine Arts Center

The Wabash College Music Department invites you to the Spring Spotlight Concert. The musical performance will take place at 8 p.m., Tuesday, April 18, in the Salter Concert Hall in the Fine Arts Center.

Group performances will include a debut by the student bluegrass ensemble, a baroque composition played by Eponymous Three, and the Jazz Improvisation Combo will perform a piece by composer Charlie Parker. Wabash professor of music, James Makubuya, will team up with Wabash freshman Kyle Prifogle for a performance on the log xylophones. Prifogle will also perform in a trio with Brian McCafferty and David Baranyk, guitar instructor at Wabash. Wabash junior Josh Jones will offer some of his recent electronic compositions, and sophomore Haris Amin and seniors Tyler Carr and Curtis Eilers will follow with a surprise.

The Spotlight Concert is an entertaining annual event that gives last-chance opportunities for seniors to perform, along with special performances by faculty, staff, and students. We hope you'll be able to come and enjoy the surprising variety of music found at Wabash.

Admission to the performance is free and everyone is welcome.