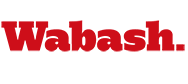 Fords Welcomed to the Big Apple by a Big Crowd
by Tom Runge

April 11, 2006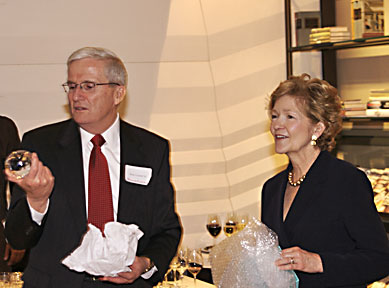 A great crowd welcomed Anne and Andy Ford H'03 back to New York City on what is probably their last official visit as President and First Lady. Almost 60 alumni and friends gathered at the Core Club to thank the Fords for their tremendous leadership of the College.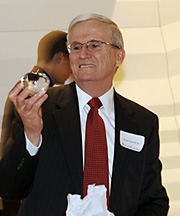 Trustee Fred Wilson '69 and regional association co-chairman AJ Lindeman '91 served as spokesmen to honor the Fords. AJ, on behalf of the New York group, presented Anne and Andy with a crystal apple, a symbol of the City and of the New York regional association.
Many thanks go to Fred Wilson and his lovely wife Debbie for hosting the entire event. Thanks as well to AJ Lindeman, Kurt Ramig '67 , and John Olivieri '91 for their efforts in getting the word out.
Also attending the event were Steve Klein, dean of Admissions, and Joe Emmick '92, Dean for Advancement.
Top Photo: Andy and Anne Ford
Second photo: Andy reads the inscription
For more photos of the evening, click here.