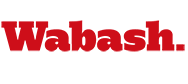 Senior Art Majors Exhibit Opens Monday
April 10, 2006

Get directions to Wabash College Fine Arts Center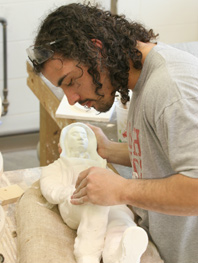 The Art Department of Wabash College is pleased to announce the 2006 Senior Art Majors Exhibit. The exhibition represents the culmination of four years of thought, creativity, and work by four talented young men — Tim Parker, David Murphy, Adam Miller, and Billy Whited. The last show of the season, the Senior Show is a tradition in the Art Department and a rite of passage for each art major.
The exhibition will open with a reception 8:00-9:30 p.m. Monday, April 17 in the Eric Dean Gallery in the Fine Arts Center. The Eric Dean Gallery is open Monday-Friday 9:00-5:00 p.m. and Saturday from 10:00 a.m. until 2:00 p.m. The exhibit will be on display through Commencement, May 14, 2006.
The works created by this year's seniors include sculpture, ceramics, painting and kinetic installation. This diversity in media will make for a great show and reflect the talent emerging from Wabash College's Art Department.
Tim Parker's sculptures reflect his relationship with urban culture and hip hop. With his works he strives to elevate hip hop culture and explore how it thrives artistically.
"I have intertwined images of hip hop with figures and artistic representations from past cultures," Parker said. "Portraying a hip hop break-dancer or graffiti artist within the backdrop of a high renaissance or classical Greek setting brings an added ironic twist to my artwork … my ideas have developed from combining my admiration of classical and historical art with the art from my own cultural background."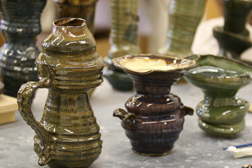 David Murphy will be showcasing a series of ceramic pieces that reflect his own creative process in combination with the character of the clay he uses. He prefers a natural process of creation in which he cannot foresee the finished product as he works.
"It has been my goal to respond intuitively to each of the steps in the ceramic process that ultimately will define the finished form," explains Murphy.
"I desire that my forms would clearly and yet subtlety possess a complex and rich character that would bear the touch of me and my aesthetic, incorporate the serendipitous, and possess a unique identity due to the variation intrinsic to my creative process."
Adam Miller's paintings possess the unique quality of appearing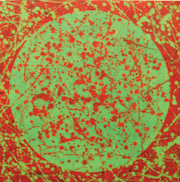 different to the viewer as they do to him. Adam is colorblind and color is one of the most important aspects of his paintings. He emphasizes the interaction of colors by using geometric shapes and a variety of textures on his acrylic canvases.
"I like to bring contrasting colors next to each other to create strong interaction where they meet within the painting," Miller said. "I use drips, pours, and splatters to add a sense of dimension and texture, which creates greater visual effect."
Billy Whited's work is influenced by his fascination with flight and the cultural consequences of this phenomenon. His kinetic installations combine toy-like creations with more sobering conceptual elements and text.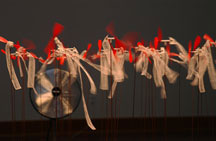 "I have recently begun an effort to explore the devices of warfare (weaponry, ideology, jingoism, terrorism)," Whited said. "I am particularly interested in how these devices affect our collective humanity and pollute our individual consciences. Ultimately, I hope that my deviant (and sometimes sinister) toy-like-creations will, on some level, raise questions about the world we currently live in."
The exhibit is free and open to the public.