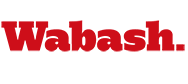 Friends Pay Tribute to Horace Turner
by Jim Amidon

April 10, 2006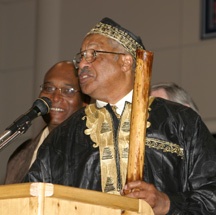 Officially, Horace Turner is on the job until he retires as the executive director of the Malcolm X Institute of Black Studies at the end of June.
Friends, family, co-workers, and well-wishers gathered Saturday night to thank the man, who for 35 years has been a stalwart at the Institute and in raising important issues about race, diversity, and equality.
The late 1960s and early 1970s were difficult times on college campuses. It was especially hard for Wabash's African American students, who suffered discrimination and were often victims of racism. A handful of faculty and administrators had the vision and wisdom to create the Malcolm X Institute of Black Studies, a dedicated building and mission-based program to provide voice to black students and a place where students of all races could come together for understanding.
Once the facility was in place, the College hired Horace Turner, who had been a high school track coach, worked in retail, and even served in the Army. And when Turner left Englewood, New Jersey, he knew he had a lot of work to do in this town and on the Wabash campus.
The MXI became a haven, a shelter for African American students. There they could be themselves; they no longer had to be "the black student." They could be called by their name, talk about the issues they wanted to discuss, and even eat the food that made them feel at home.
Alumni I know well, like Eugene Anderson and Daryl Johnson, both use the word "home" when they speak of the Malcolm X Institute. They use words like "father," "brother," "mentor," and "friend" when they speak about Horace Turner.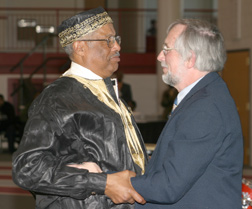 In Horace, Wabash's black students found a person at whom they could yell, scream, talk, and cry. In Horace, they found a man who would listen intently to their concerns and make them feel better about their experiences at Wabash.
Jo Throckmorton, a white student who came to Wabash in the 80s from nearby Fountain County, says that Horace was simply an advocate for students, regardless of race. In addition to his duties with the MXI, Turner was an advisor to the student radio station, WNDY. That's where Throckmorton met him, and Jo talks fondly about how Horace would routinely take students' ideas to the highest levels of the administration.
Faculty know Horace as a man who has raised difficult issues and asked hard questions. He has been the voice of diversity on this campus — in this community — for his entire life here. When new faculty are hired, Turner asked if candidates from under-represented populations were considered. When programs are established, Turner questions their impact on African American students.
When a new freshman class arrives in August, Horace meets with African American students to offer his help, his guidance, and his advice. (He also tells them where they can get a haircut.) And when that new freshman class arrives, he takes careful note of the diversity of it. If the Admissions Office has a good year with diversity, Horace challenges the recruiters to do even better next year. If diversity numbers are down, he questions the administration about the resources available to recruiters and the recruitment program in general.
But lest I paint a picture of Saint Horace, all of us who love him know his faults, too. Many of us wonder if he knows where the "on" switch is located on his computer. We're positive he doesn't know how to access his voice mail since he never calls us back. His office looks as bad as mine; picture a couple thousand pieces of paper scattered about as though a window was left open in a windstorm. A mutual friend calls him the "personification of disorganization."
And that's okay.
Cause when a student needs Horace he's always been there. Whenever there was a racial incident, Horace was ready to take steps to understand and educate. If a student thought about trashing his education and walking away from Wabash, Horace Turner blocked the door and took the kid's car keys.
Saturday night's "retirement dinner" made all of us reflect and remember what Horace Turner has meant to us. This remarkable little community, too, owes a debt of gratitude to Horace, for helping us understand the importance of acceptance and diversity in all its manifestations.
Horace Turner: Some Little Giant!