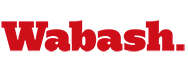 Glee Club to Present Concert with University of Indianapolis Women's Choir
April 7, 2006

Get directions to Wabash College Fine Arts Center

The Glee Club will present a joint concert with the University of Indianapolis Women's Chorus at 8 p.m., Saturday, April 8 in Salter Hall in the Fine Arts Center. The program is an annual spring event, with the location alternating between Wabash College and the University of Indianapolis. This year's concert will be presented on the Wabash campus.

The program will open with the thirty-voice Women's Chorus. Their selections will include Blessed be the Name of the Lord (text from Psalm 113) by Dale Grotenhuis, the Kyrie and Gloria from Gyorgy Orban's Mass No.6, and Life is Happiness Indeed from Leonard Bernstein's Candide.

Following the Glee Club's selections, both choruses will take the stage to present several combined numbers, including William Billings' Hail, Music Hail! and Mozart's Ave Verum Corpus.

The program is open to the public without charge.