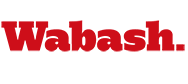 Author Urges Students to Question, to Speak, and to Act
by Steve Charles

March 28, 2006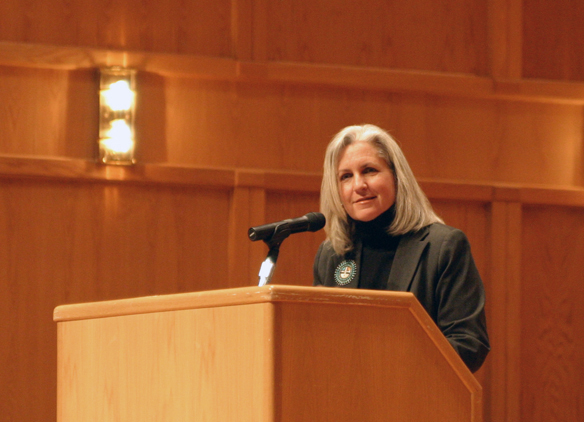 During her Monday evening talk in Salter Hall, writer/activist Terry Tempest Williams asked Wabash students, "How many of you know personally someone who is currently serving in Iraq?"
Williams scanned the audience as dozens of hands went up.
"This is profound," she said. "Iraq is your generation's war. The question is, 'How will you serve?'"
In a gentle yet powerful voice, Williams offered examples of environmental and political issues where such attention and service is needed. She urged Wabash students to engage those issues, debate them, listen to the points of view of others, and to find common ground to change what needs to be changed—"to question, to stand, to speak, and to act." "We are asleep in this country," she said. "We need to wake up and take our stand in the open space of democracy."
She defined that open space Monday night through stories.
Williams described the Castle Rock Collaboration, in which residents with contrasting political and religious beliefs from Castle Valley, Utah have come together to protect, purchase, and manage open lands adjacent to the town.
"Each of us registered what our gifts were, and brought those talents to serve the group," Williams explained, noting that the fledgling organization was able to raise $2 million to purchase land that was being sold to developers. "Communities can band together around a common cause, but we have to listen; we have to learn from each other."
Williams recalled an incident at Florida Gulf Coast University, where an invitation she'd received to speak on campus was suddenly withdrawn two weeks before the Presidential Election of 2004. A large group of students, from Young Republicans to the Young Democrats and others, protested the college's decision and invited her to speak off-campus. The controversy exploded when Vice President Dick Cheney was asked to speak there, and student intervention resulted in both Cheney and Williams presenting their views and sitting together at a convocation.
"Student action led to a new policy," Williams said. "They demonstrated the singular beauty of one true voice—this is what the open space of democracy looks like."
Describing the 2003 march of thousands to the White House to protest the invasion of Iraq, Williams described the police barricades at the entrance to Lafayette Square, a public park across from the White House.
"Rachel Bagby, an African American woman, walked to where an African American policeman was standing in line, and she began to sing," Williams recalled. "With tears in his eyes, the officer stepped back, and that was our passage through to the White House. That is what the open space of democracy looks like."
During the question and answer session, senior Tim Flowers asked the author if her mind had ever been changed by the passionate exchanges of opposing view she advocates.
"I think I've changed my views on wilderness," Williams said. "I've been too narrow there."
"We are a nation at war with ourselves," Williams lamented, quoting the late Arizona Congressman Morris Udall.
"He used to pride himself on being a member of Congress, a place where members were 'free to disagree, had the capacity to listen, and the obligation to grow.' I wonder if we've lost that."