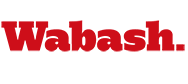 Wabash Alum, Catholic Theologian to Deliver Dean Lecture
by Royce Gregerson '09

March 23, 2006

"Catholicism and Fascism" may sound like the title to the latest anti-Catholic conspiracy book. However, it is the title of this year's Eric Dean Lecture in Religion. Dr. Jeff Marlett will give the lecture, which will be Monday night at 7 pm in Center Hall, room 216. The Department of Religion and Philosophy and the Newman Club are the sponsors of the event.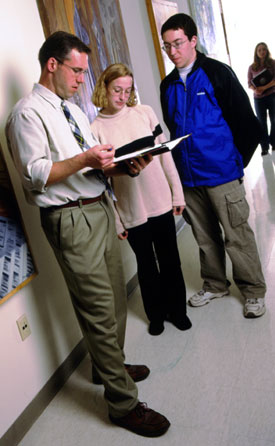 Marlett graduated from Wabash in 1991 with a major in Philosophy. After graduation he earned a Master's degree from Vanderbilt and then earned his Ph.D. in Historical Theology from Saint Louis University in 1997. After earning his Ph.D., Marlett taught at Lyon College in Batesville, Ark. for one year. Lyon interviewed Marlett at the recommendation of fellow Wabash graduate and biology professor Bob Gregerson '85. After teaching at Lyon, Marlett moved to The College of St. Rose at Albany, New York, where he is now Associate Professor of Religious Studies.
Marlett's specialties are in American religious history and the history of Catholic thought. However, he has taught in many other areas, such as biblical studies, world religions, new religious movements, and ethics. In his eight years at St. Rose, he has taught 18 different courses, a rather large number.
"In Wabash terms, I combine elements of classes taught by Placher, Webb, Blix, Royalty, Baer, John Fischer, and Peter Frederick. I'm under no illusion that I match their teaching skill, though," he said humbly.
Marlett became interested in the connections between Catholicism and Fascism while researching for his book Saving the Heartland: Catholic Missionaries in Rural America, 1920-1960, published in 2002.
"In the process of researching this I came across different perspectives on subjects I thought I understood: the city-country relationship, the changing role of agriculture and rural/agrarian values in American life, anti-Communism in the 1950s, and the stereotypical "stodginess" of Roman Catholicism," Marlett said. Many people may be familiar with Father Charles Coughlin, a Roman Catholic priest and open anti-Semite, who is also a focus of Marlett's research.
In addition to Marlett's lecture on Monday night, he will meet with students during lunch on Tuesday in Center Hall in room 216. He will discuss graduate theology school with all interested students.
Gregerson is a Wabash College freshman and staff writer for the student newspaper, The Bachelor.
In photo: Marlett with students at The College of St. Rose.