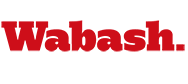 Hollywood Comes to Wabash
by Jim Amidon

March 6, 2006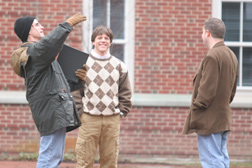 With Wabash College students traveling the world this week in search of knowledge (and sun tans), the campus will be turned into a makeshift Hollywood film studio.
Wabash will be one of three locations for the independent feature film "Zorg and Andy," which was written and produced by Quentin Dodd. By day, Dodd manages the college's computer network operations; by night he's an award winning science fiction writer, whose books are geared toward younger audiences.
"Zorg and Andy" follows that pattern.
Dodd is helped in the production by his wife, Paula, and his former colleague, Guy Davis, who used to work in Wabash's computer center, who is directing the film.
In short, "Zorg and Andy" is a movie about a college student (Andy) whose latest campus job is working in the university museum office. He's asked to clean up an idol (Zorg) and mistakenly gives the semi-valuable idol to the wrong people. Bedlam begins when several different groups (a cult of economics professors and a group of sorority girls) take turns stealing the idol from one another.
It's PG-rated fun, to be sure.
Three Wabash students have been cast in the film and others are involved on the production side. Senior Reynaldo Pacheco (who has directed shows at Crawfordsville's Vanity Theater) has the role of Tony, while junior Andrew Dits, sophomore Nick Kraynak also have parts. Alumni Trevor Fanning and Marco Noyola play characters called Pete and Rich, respectively, giving the film a real Wabash feel.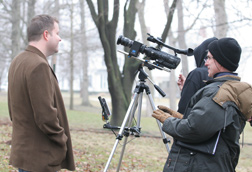 Dodd and Davis first approached Wabash officials about seven months ago in hopes of shooting the film over Christmas recess. Unable to pull everything together in that time, the next opening for Wabash was spring break.
Many of the interior segments will be shot at Earlham's Joseph Moore Museum, though Wabash's Detchon Center will provide the exterior of the building where Andy and Zorg begin their adventure. The east side of Detchon (the old Yandes Hall) is over 100 years old and has an ancient, even creepy feel about it.
Get in the basement and it's really creepy — the perfect spot for a chase seen, if you watch your head.
A cult of economics professors get their hands on Zorg with hopes that by worshipping the idol they'll make the tenure process a snap. Many of those scenes will be shot in Baxter Hall, where Wabash teaches its economics courses. They'll even get some shots in the college's experimental rat lab, which for this purpose doubles as a beetle laboratory.
The crew will also shoot clips of downtown Crawfordsville to use as a backdrop, so if you spot video cameras you'll know what you're seeing.
It's great that somebody like Quentin Dodd has such a wonderful hobby — writing — and that he's switched from novels to screenplays. And it's great that Wabash has thrown open its doors to make his movie-making dreams reality.
In Photos:
Top right: Guy Davis (left) and Quentin Dodd (right) discuss a scene with Scott Ganyo, who plays Andy.
Bottom left: Dodd and Davis set up an exterior shot on the first day of shooting.