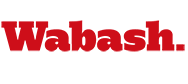 Texas-Sized Crowd Welcomes Fords to Dallas
by Tom Runge

February 18, 2006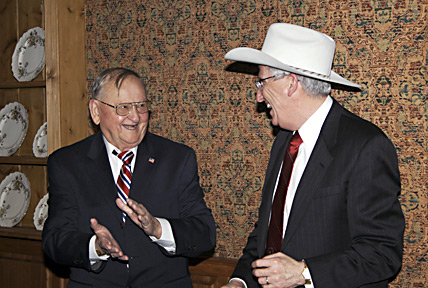 A full house of alumni, parents, and friends gathered to welcome Anne and Andy Ford to Dallas. The group gathered at the Royal Oaks Country Club for a reception, dinner, and Andy's comments on the state of the College.
Anne and Andy were both surprised by the group. First, Dutch Freise '48 presented Andy with a "gen-u-wine" Stetson cowboy hat!!!! Dan Susie '68 reminded the crowd of the many accomplishments of the Fords during their tenure as Wabash's first family. Dan then presented Andy with a beautiful mantel clock bearing a plaque declaring Andy "Some Little Giant." Ray LaDriere '78 then lauded Anne Ford for her great service to the College and presented her with a necklace.
Many thanks to local leaders Dutch Freise '48, Dan Susie '68 and Ray LaDriere '78 for the great event. A very, very special thanks to Anne LaDriere who planned the entire evening's reception and dinner.
For the evening's photo album, click here.