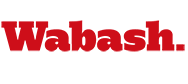 Sophomore Wins Baldwin Oratorical on Second Try
by Howard W. Hewitt

February 16, 2006

Jeremy Burton '08 wasn't dissuaded by last year's fifth place finish in the Baldwin Oratorical contest. He found a topic more near and dear to his heart, wrote about it, and delivered it Thursday night to become the winner of the 132nd competition.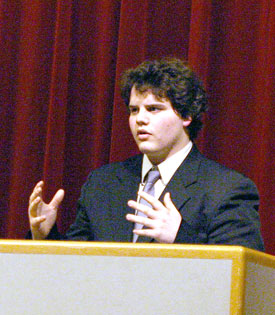 Five finalists competed after a round of preliminary competitions earlier in the week. The speakers were challenged to reflect on a new Wabash College President and construct a speech, "Dear Mr. President ... "
Burton's "A Balancing Act" edged Jim Stephen's "Wabash is Dead" speech for top honors.
"This year I had been experiencing what I wanted to say in the weeks before I wrote the speech," Burton said. "Things that happened to me on campus made me think of three points. I talked about tradition, dialogue, and morals. The difference between last year and this year is it was more personal this year."
Third place went to Josh Paul '07. His speech was titled "A Change of Definition."
Before announcing the winners Rhetoric Professor David Timmerman praised the finalists and those who competed earlier for their efforts. He said this year's topic was clearly one the men had given great thought to and hit close to their hearts.
"The most important thing from my speech is I want to tell Wabash students to stop grouping themselves up and start talking to more than just the people directly around them," said Burton, a Nashville, Indiana native. "Students should start going to the other side of campus they never go to and meet people they never thought they'd meet."
Jake Koeneman '06 and Robert Bloss '09 were fourth and fifth.
Judges were Anthony Gigli '01, Pastor John Van Nuys from the Wabash Avenue Presbyterian Church, and Schroeder Career Center Director Scott Crawford.
Each of the finalists received a bound copy of William Shakespeare's works. That tradition began in the contest's first year in 1873. The contest was endowed by gifts from Judge Daniel Pratt Baldwin, a Wabash College trustee and lecturer. Each finalist also receives a cash award.
Burton's name will be engraved on the Baldwin plaque that is mounted in the Ball Theater Lobby.
In photo: Jeremy Burton delivers his speech.