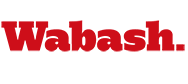 Huebner's Art Exhibition Runs Through April 7
by Wade Coggeshall

February 16, 2006

There was a theme, a thread, woven through Greg Huebner's previous Wabash College art exhibits. For his latest, "Explorations," the motif, he quipped, is "let 'em see what I've been doing."

The Wabash College art professor's latest collection of paintings are being exhibited in the Eric Dean Gallery in the Fine Arts Center on campus. "Explorations" continues through April 7. Gallery hours are 9 a.m.-5 p.m. Monday-Friday and 10 a.m.-2 p.m. Saturdays.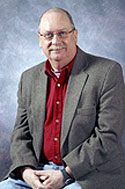 Huebner, the art department chair, had an exhibit at Wabash in 1998 called "Centering." It featured abstract paintings with opposing and complementary elements like color and shape. Huebner studied Native American art in the southwest during the late '80s. He was inspired by that culture's deep spirituality in finding balance in life's various tumults. He crafted the "Centering" series to visualize his "sense of life's duality."
His 2002 Wabash display, "Bass Lines," stemmed from his study of jazz theory and playing bass in the college's Jazz Improvisation Combo. Like jazz, the paintings have a ballast to them, but elements of color, texture and form — the improvisation — overlaps.
With "Explorations," Huebner said, "I didn't know where I was going. I was thinking of titling this show 'A Funny Thing Happened On the Way To the Studio.' It's been a long time since I started from scratch. I just started painting. I had no preconceived notion of what I wanted to accomplish, where I wanted to go. That's why they look different one from the next. You still have command of your theory and knowledge and years of painting experience."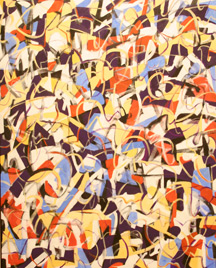 As his latest creations came together, Huebner started to see echoes of the past informing his current work.
"To some degree these all still have some residue of (my past exhibitions)," he said. "They deal with resolution. There's a lot going on in these paintings as far as the shapes and colors."
He pointed out how each vivid color seems overactive on the canvas. But if you concentrate on one, you begin to decipher a logical placement for it. So it goes with all of them.
"This idea of resolution brings diverse elements and colors together — form, color and line all fighting each other to some degree," Huebner said. "In that sense you can tie it back to the past two series — finding balance with improvisation."
Always working on a large scale, Huebner also made himself create a series of paintings on 6-inch square pieces, complete with white space on the edges. Those also are part of "Explorations."
A Chicago native, Huebner has always been taken with art.
"I think it's just something I've always enjoyed," he said. "I always remember drawing, getting modest grades in grade school but always being asked to do all the bulletin boards."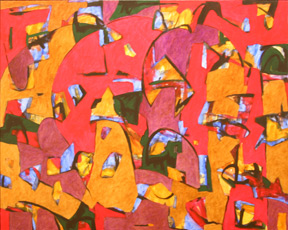 By high school he was taking it seriously. Though he attended a Catholic college-prep high school that didn't even offer art, he took summer courses at the Art Institute of Chicago. After earning bachelor's and master's degrees in art, he interviewed for a professorship at Wabash on his 25th birthday.
Since then Huebner has stayed busy. His paintings are in more than 90 private collections and 25 public collections around the United States. He's had 28 solo exhibitions and participated in 85 group shows. He's also been a lecturer and artist-in-residence at more than 30 institutions.
Not bad for a guy who chairs a college art program and teaches plenty of courses. Huebner learned from his own college professors to use any available time for his pursuits, and to always stay focused.
"I've had quite a productive career," he said. "It's just a very disciplined vocation to do. Basically, weekends I'm in the studio, at least six hours Saturday and Sunday. If I can squeeze in a few hours another day, that's great. And in the summer, I live there."
It helps that over time, Huebner has become more efficient at his craft. He needs to be. He's got three galleries in Indianapolis, St. Louis and Cleveland to keep stocked.
"What I can now accomplish in a half-hour used to take me an hour," he said. "I hit the studio and know what I'm doing. I think that happens to all professionals as they get older."
That doesn't mean every work of art comes together as planned.
"I spent 20 hours on one (painting) over a weekend, and it was no better off Sunday than Friday when I started it," Huebner said. "Others fall together beautifully. Students always ask me how long it took to do that painting, asking about a specific one. I always say my entire life. Because that painting wouldn't be there if I didn't have all the painting prior to it that gave me the skill."
Wade Coggeshall covers Wabash College for the Crawfordsville Journal Review.