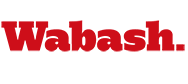 Master class inspires student pianists
by Steve Charles

February 15, 2006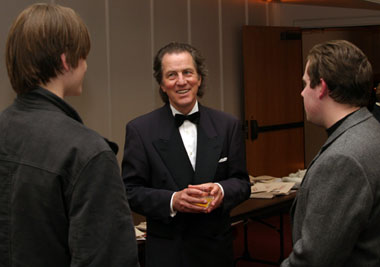 The Wabash Department of Music is hardly the largest or best-known in the nation, but the College's musicians are discovering advantages here they'd be hard-pressed to find anywhere else.
Just ask freshmen Kyle Prifogle and David Herr about their master class with internationally acclaimed piano virtuoso and recording artist Andreas Klein.
Herr and Prifogle were two of four Wabash student pianists critiqued and taught by Klein (at right, with Prifogle and Herr) during his February 5th visit to perform as part of the College's Visiting Artists Series.
Benefits from his session with the virtuoso were immediately apparent for Herr. Only five days after watching the Klein interpret the works of Mozart, Schubert, and Beethoven in the College's Salter Hall, Herr sat at the same Steinway piano on the same stage performing his own interpretation of a Schubert Impromptu.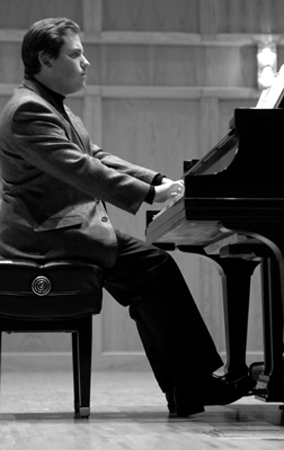 "I applied what I'd learned from him tonight," Herr (at left) said following his performance at the student music recital on February 10th. He found Klein's critique honest, rigorous, and surprisingly helpful for a one-session class.
"I was honored to have him listen to my playing; and I believe he really listened," Herr says. "He was able to feel what I was feeling while I played, what I wanted the piece to sound like and how I imagined it. To have such understanding after hearing me play only once was incredible; to have your playing so understood was inspiring."
Prifogle, who has been playing piano since the first grade and considered more prominent music schools before applying to Wabash, welcomed the challenge of the master class.
"I think it was very helpful, and I think he accomplished a lot with me," Prifogle says. He admits it was a tough critique.
"He didn't care about hurting my feelings, but who cares if your feelings were hurt, as long as the person wants to help you," Prifogle says. "Sometimes I need that type of motivation to keep productive."
Prifogle (below, right) was plenty productive at the February 10th recital, wowing the audience with his performance of Chopin's Barcarole.

"Klein was openly rigorous with his critiques of our students, but in a subtle way," says Wabash music professor Peter Hulen. "A visiting artist can be incisive and even blunt in a way that a regular teacher—who has to maintain a working relationship with the student—cannot. So the visiting artist may put across a message that the regular teacher has been trying to communicate for some time, but in a newly effective way."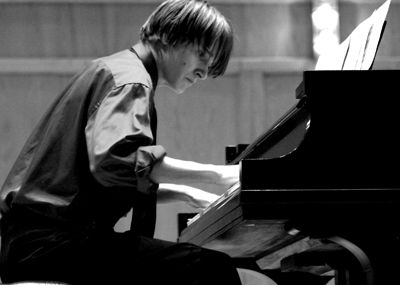 If the sessions required students to have a thick skin, they seem to have emerged the better for it, personally and musically. Their performances at the February 10 were inspired, suggesting even finer work to come during their next three years at Wabash.
"Our students are fortunate to have opportunities like the master class, because such opportunities are more rare at prominent music schools and conservatories," Hulen says. "Because of our size and our instructor-to-student ratio, we are able to offer such benefits to all students who are serious about their artistry on the same scale as offered to only the select few at larger institutions."

Check out the photo album from February 10 Student Recital.



Check out the photo album from February 10 Student Recital.