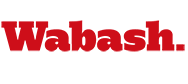 Koeneman, Backs Named 2006 Class Agents
by Howard W. Hewitt

February 3, 2006

Jake Koeneman and Taylor Backs have been selected as Agents for the Class of 2006, according to Director of Alumni Affairs Tom Runge.

"We had an outstanding group of volunteers from the Class of 2006 seeking to become Class Agent," Runge said. "Any one of the guys who applied would have done a great job. That made our selection process tougher than ever."

Koeneman, a senior from Indianapolis, wanted to become a Class Agent in part because he saw the impact those men can have. "I knew three past Class Agents who were very influential during my college choice and career and I wanted to follow in their footsteps," Koeneman said.

Fred Miller '76 played a role in encouraging Koeneman to take a look at Wabash.

Taylor Backs, an independent from Bedford, In., became interested when a friend, Kip Chase '03, accepted the position for his graduating class.

"The older I've become I realized the contact I had with former high school classmates has diminished. I've come to realize how important it is to keep the bonds between classmates alive," Backs said.

"I think the bonds we establish in college are much more influential in our lives and it is because of this I wished to become a class agent."

Runge is happy Backs and Koeneman emerged from the large pool of candidates.

"We felt the combination of Jake and Taylor gave the class what they needed," Runge said. "Jake and Taylor know virtually all the Class of 2006, they have been involved in a multitude of campus activities and they have played key leadership roles at the College."

"Koeneman was a starter on the Little Giant football offensive line and active member in many campus activities.

"I have been very involved in various organizations on campus," Koeneman said. "I feel the Class Agent position will allow me to stay in contact with members of the faculty and administration that I respect so much as well as meet a new group of Wabash men that I have heard about but not had the opportunity to interact with much during my undergraduate career."

Backs also looks forward to developing post-graduate relationships with more classmates and Wabash alumni.

"I think there are many students and alumni alike who would like to see more interaction between the two groups on more than just a big football weekend, scholarship event, etc.," Backs said.

Koeneman echoed similar thoughts in pledging to keep his class in touch with the college and each other.

"The next few years of the College will be very formative for our College's history and we, as a class, have seen a lot of change in our four years on campus. It is very important that we stay involved and impart what knowledge we have gained to our predecessors as the College continues to evolve."