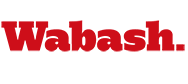 Annual Event Celebrates Wabash College Student Research
by Howard W. Hewitt

January 27, 2006

The range of topics boggles the average mind, spanning the humor of Dave Chappelle, the search for historical Jesus, and a bevy of chemistry and biology projects with titles even difficult to pronounce. The Sixth Annual Celebration of Student Research, Scholarship, and Creative Work drew a huge crowd to Detchon Hall Friday.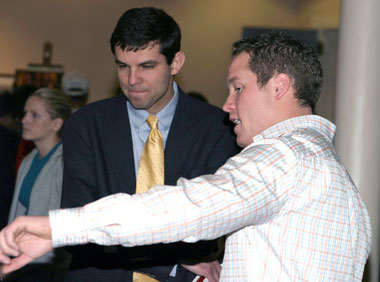 "I'm always very amazed by the variety of projects our students come up with and how articulate they are in explaining the results," said Todd McDorman, chairperson for this year's Celebration. "I'm also very impressed with the sophistication with which they explain their information.
"They are working as scholars in their respective fields and teaching the rest of us, those who come from other academic disciplines, about their findings."
The Celebration is divided into two parts: oral presentations and performances along with poster presentations and exhibits. The exhibits included art work and many poster presentations. (See Celebration photo album.)
Six of the Wabash students who worked in the Present Indiana internship program last summer presented their work. The program is funded by Lilly Endowment to raise awareness and understanding about the Hoosier state's cultural and historical heritage.
The wide variety of Celebration topics is one of the often-mentioned attractions.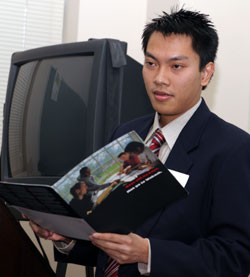 Vu Quang Tran, an international student from Vietnam, did research on international students at Wabash College. He had a summer internship at Georgetown University which spurred his interest in the recruitment of international students at Wabash.
"Having talked to admissions counselors, faculty, staff, and students about this process at Wabash, I have some suggestions to make international student recruitment more efficient and matching up with the college's mission on education," he wrote.
His suggestions include more varied recruitment materials, Internet downloads of recruitment materials, and for Wabash to actively recruit at international college recruitment fairs.
Wabash students in suit and tie waited anxiously at each table as fellow students, faculty or staff approached. Many enjoyed sharing their research with members of the National Association of Wabash Men and members of the Board of Trustees. Both groups were holding campus meetings January 27.
"It was great because it gave me an opportunity to stand up to present my work and see what it was like to take something I've worked really hard on and see other people's response to that," said Travis Ross'06. "It went a lot better than I thought it would and it was a lot of fun."
Ross gave an oral presentation titled: "One in Christ or Quietness and Submission: Contextual Exegesis of Pauline Doctrine on the Role of Women in the Early Church."
Still, it was the variety of presentations that struck most attendees.
"I heard some very interesting things from a psychology student today," Rhetoric professor McDorman said. "I listened to a chemistry student's presentation. Both have much different perspectives than what I hear on a daily basis and they sounded very well informed and educated."
Hewitt is Wabash College Director of New Media/Web Editor.
In photos:
Top Right: McDorman listens to Matt Boston explain his project: Identity Formation as Evidenced in Self-Defining memories from the Freshman and Senior Years.
Lower left: Tran talks about Wabash recruiting materials.
On home page: Philip Ramilo '07 explains his artwork to David Hadley.
On faculty/staff and alumni homepage: Ben Nguyen Tang Le '06 talks about his project: A Macro-Economics Analysis of the revaluation of the Chinese RMB"