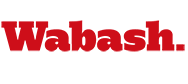 Bob Quirk '50 Publishes Book About His Life Stories
by Doug Hunt

January 25, 2006

NEWTOWN — A retired Pleasant Hill Elementary School fifth-grade teacher and Wabash College graduate had heard stories all his life about the escapades of family members and other local residents.

Like most young kids Bob Quirk, 78, never thought too much about the stories until later years. The Fountain County historian recently formatted several tales into a new book.

"Real American Stories" was published in December 2005 by AuthorHouse, based at Bloomington, Ind. The book sells for $14 and can be obtained by phoning Quirk at 765-295-2604 or going to the AuthorHouse Web site at www.authorhouse.com.

A book signing is scheduled from 3-6 p.m. Jan. 31 at La Rose on Main Antique Mall, 124 W. Main St., Crawfordsville. Cost of the book is $14.

The book includes, among 43 stories, a diary of a Civil War soldier, a 15-year-old Irish boy who joined the British Merchant Marines and meets his future wife on board 14 years later on a voyage from Shanghai to London, a young woman who sailed to China in 1920 to teach school, outhouses, small town high school team that won a national high school tournament and a small town boy who became a hero at Colombine.

Quirk graduated in 1945 from Richland Township High School at Newtown. Went to Wabash College and put his college education on hold to serve in the Army for one and one-half years. He graduated with a history major in 1950 from Wabash. In the same year, he married Jeannine Peterson, Attica, on Aug. 20.

Griff Quirk, Bob's father, was born in 1895 in Ireland and served 14 years in the British Merchant Marines. His mother, Grace McKinney, was born in 1891 in the house her mother and father built near Newtown.

"I didn't think about the stories when I grew up, it was just mom and dad talking," Quirk said.

Quirk's father came to Fountain County to farm after leaving the British Merchant Marines.

"Dad didn't know much about farming but I learned more about England and Ireland from him," Quirk said.

One of the most precious archives Quirk discovered was a box of letters written by his mother when Grace went to Kuling, China, in 1919 to teacher music to British and American children.

A friend's daughter had purchased the house Quirk's mother lived in and told him a box of letters written by Grace to her mother were found in the home.

"We thought we had everything cleared out," Bob Quirk said.

The letters provided an insight, through Grace's eyes, of life in China during the early part of the 1900s.

Other stories include the Wingate state championship basketball teams, travels of his father, farming, the time 125,000 people came to Newtown for the national cornhusking championship in 1935 and a special memory of Dave Sanders, the Fountain Central graduate who saved many students from harm, but was killed during the 1999 Columbine High School shootings.

"We used to haul Dave Sanders to ball games," Quirk said.

Quirk's wife was probably the biggest influence to get her husband to write down his memories. Good friend Greg Flint suggested the book and helped organize it. Children Jeff, Jerry and Jill also had a hand with the book.

In addition to farming, Quirk added education to his career choices. He began teaching at the former Coal Creek Central High School and had been principals at Mount Zion, East Union and Waynetown schools before ending his education career at Pleasant Hill as a fifth-grade teacher.

Quirk hopes to be an example to show people the importance of writing down their memories from the stories they hear from family and friends.

"They may not think about it now but these stories will mean something to them later in life," Quirk said.