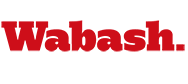 Annual Celebration of Student Research Today in Detchon
by Wade Coggeshall

January 23, 2006

One day every school year, for six years now, Wabash College students switch roles with their professors.

It's called the Celebration of Student Research, Scholarship and Creative Work. Scheduled from 1-4 p.m. Friday in Detchon Hall on campus, students present their research on topics encompassing nearly every academic department at Wabash, through oral presentations, posters, performances and exhibits. Only a select number of students, sponsored by faculty members, are asked to participate. Classes are always canceled the afternoon of the event so everyone on campus, the public included, can attend. A book containing abstracts of every student's presentation will be available at the conference. (See Celebration schedule here.)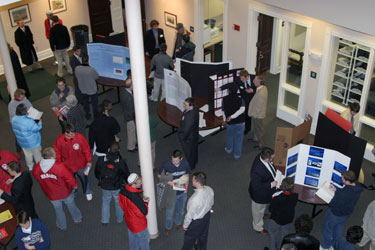 "We do this to spotlight the good work of our students," said Todd McDorman, associate professor of Rhetoric and this year's committee chair of the celebration. "(They) produce a number of worthwhile projects that are much like those the professors themselves undertake. The celebration gives students a broad public audience."
Most of the participants spend class time and summer vacations formulating their projects. Merely showcasing their work in their respective classrooms makes for limited viewing, McDorman said.
"This is a time to bring the entire campus together and invite the Crawfordsville community as well to experience that good work. It's to show appreciation of that work, to honor that work and give them the type of public audience we think this creative work deserves."
Topics run the gamut. It's as arcane as Christopher Jackson and Michael Lawlor's "A New Axiomization of the Variety of Trimedial Quasigroups" to the lighter, more universal "It's Always about the Subtleties: Comedy as a Stage for Social Critique in 'Chappelle's Show,' " by Robert Alexander II. Area residents may be interested in the local flavor of "A Taste of The Strawberry Festival" by Zuber Ahmed and the state history of "The Milan Miracle: The True Story Behind the Movie 'Hoosiers' " by Collin Lanam. Altogether there are six different subjects on Indiana history, sponsored by a Lilly Grant named Present Indiana.
Besides raising the "intellectual climate" on campus, McDorman said the celebration benefits students in a number of ways.
"It motivates students to take classes in other departments," he said. "It may inspire students to pursue a higher degree. This is a way that treats them like scholars. It gives (faculty) a chance to interact with our students essentially as peers — much like we'd interact with colleagues at academic conferences. It helps students prepare for life after college in terms of graduate school. This is much like the research they'd produce (there). It also helps them in terms of learning how to communicate their material to a diverse audience. Scientific research that focuses on nanomaterials, for instance. When someone interested in chemistry approaches that student, he'll probably explain it in a particular way. When I approach that student, they're going to need to explain it in a different way, with a different vocabulary. Students getting that sort of experience in relating to a lay audience, that's going to be valuable to them if they move forward."
The celebration's assets extend to the faculty as well.
"I think we learn a great deal," McDorman said of himself and his colleagues. "We do that most by engaging the students who are presenting in areas outside our own discipline."
Since participation in the celebration is by invitation only, those students are commonly nervous about their performances and the value of their analyses. Those giving oral presentations, for instance, have 20 minutes to fill. In the six years McDorman has been involved with the event, he's seen student contributors parlay that tension into worthwhile output.
"They take it very seriously," he said. "I can't recall ever seeing a presentation where the student seemed disinterested or acted like they didn't want to be there, which frankly you can see sometimes in a classroom."
Senior Travis Ross admits to feeling some stress before he discusses his topic, "One in Christ or Quietness and Submission: Contextual Exegesis of Pauline Doctrine on the Role of Women in the Early Church."
"I was very honored to be asked, although I'm a little nervous because I don't exactly know what I'm doing," he said. "The quality of work produced by the other students kind of sets the standard for the afternoon. I'm hoping I measure up."
Ross combined his English and religion majors when deciding on his research. After taking a critical reading course, he started thinking about different ways of interpreting literature. "That put me in the realm of, could I attempt to use some of these things in an argument about Scripture?" Ross said.
Most of his study was spent learning how to interpret Scripture and ascertaining the historical context in which it was written. Ross is confident in his subject because he said it's something that's been largely ignored.
"That's kind of what led me to do it — simply because no one else really had," he said.
Ross is but one example of the celebration's worth, and how rewarding an experience it can be for all involved.
"There's no credit given," McDorman said. "This isn't a course. This is something (students) are doing for their own betterment and because this is research they're proud of. They want to engage audiences by sharing."

Coggeshall is a reporter for the Crawfordsville Journal Review.