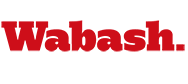 Thanks a Million, Lynn Garrard
by Steve Charles

January 13, 2006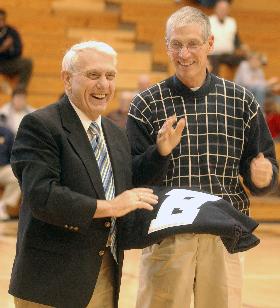 For 28 years, Lynn Garrard '64 ran the Elkhart Sectional boys high school basketball tournament with extraordinary enthusiasm and professionalism.
So when he announced his retirement as Elkhart Central High School's Student Activities Director and Assistant Athletic Director, his colleagues weren't about to let him retire without a proper send-off.
That's what they gave him on December 9. Elkhart Truth Assistant Sports Editor Anthony Anderson covered the event in his column, Twine Line, excerpted below:
Thanks a million, Lynn Garrard, or at least a half-million anyway.
That's about how many times fans passed through the North Side Gym turnstiles for Elkhart Sectional boys high school basketball games during the 28 years the tournament was under Garrard's direction
Garrard, 63, retired in December as activities director and assistant athletic director at Central High School.
For nearly three decades, he made the most-attended annual event in Elkhart County outside of the fair run like clock work, but to students and peers at Central, he'll be remembered for much more.
Through my own good fortune of talking with and working with Garrard over the years, and through observing staff and students around him, it's been obvious that the typically grinning man oozes energy, passion, humor, approachability, thoroughness and homespun humbleness.
"I'm not sure I'm ready to go," Garrard admitted last week. "I wish everybody could have the experience in their jobs that I've been provided. A lot of people have had bad duties or bad bosses, or don't like to get up and drive, and none of that has ever applied to me.
"I've just always been around terrific people. I've been very lucky."
So, why leave then?
Because family's important, too.
"My wife's wanted me to hang it up for a few years," Garrard said of spouse Janine, "and I finally said, 'Tell you what, we'll build a house (in Chandler, Ariz.) and whenever it's finished, we'll go.'
"Well, it's ready."
In Arizona, the Garrards will be able to live near their son, Marc.
For the outside of his new home, Garrard was presented from Central and friends a roughly 80-pound landscape rock, one that has a Blue Blazer logo and "Thanks for the memories" etched into it.
"That 'E' blanket," Garrard said of the other gift he received, "they don't give that to a lot of people, and it's something I'm really going to treasure, but that pet rock, I told them they'll need to pay the postage."
There's no mistaking Garrard's positive impact on students, and no mistaking that he's the one who's felt blessed over it.
"I think if you look at virtually any school in the country, you'll find people who like to be helpers, have good values, and people who enjoy being around kids the same way I do," Garrard said.
"The goal should not be to make ourselves happy, but to instill in kids the same values and academics that somebody gave us. In doing that, there's just a lot of good feelings that develop within yourself. Those are rewards you can't attach dollars to."
Photo above: ECHS Athletic Director Ted Foland presents Lynn Garrard with a letter blanket in honor of his 28 years of service to the school.
Photo by Jennifer Shephard/The Truth