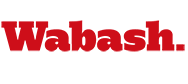 Basketball Winning Streak Ends at Nine with 61-55 Loss at Ohio Wesleyan
by Brent Harris

January 11, 2006

A poor second half by the Wabash basketball team led to a 61-55 loss at Ohio Wesleyan Wednesday night, ending the Little Giants' nine-game winning streak and dropping them from the ranks of the undefeated in North Coast Athletic Conference play.

Turnovers cost Wabash a chance at a ten-game streak as three of the Little Giants' 21 turnovers came in the final minutes of the game. Add to that a 9-of-23 shooting performance by Wabash in the final 20 minutes and it spelled an end to the streak and a 10-4 overall mark. The Little Giants dropped to 4-1 in the NCAC with the loss.

Wabash played well defensively looking at the final numbers. The Bishops were held to 21-of-53 from the field, including 8-of-29 from behind the three-point arc. But a 12-of-27 second half shooting effort by the Bishops, including three baskets on Ohio Wesleyan's final four shot attempts of the game added to the Little Giants' woes.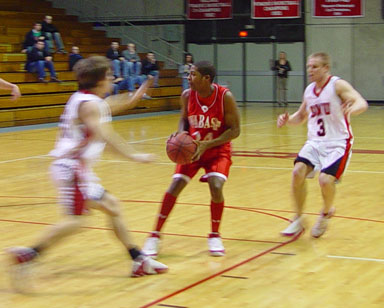 A sluggish first half saw both teams struggle offensively. While the Little Giants held Ohio Wesleyan to 9-of-26 shooting from the field and 11 turnovers, Wabash gave the ball away 10 times and allowed the Battling Bishops to grab five offensive rebounds. The Little Giants spread the offensive scoring in the first period, while Ohio Wesleyan spread the floor. Adonis Joseph (left) led the Little Giants with seven points in the first period, with Caleb Lyttle adding six and Kyle Medeiros pitching in five points. The Bishops repeated cleared the lane, looking for isolation inside before pitching the ball back outside the arc for a three-point attempt. But the Little Giants kept a hand in the face of the OWU shooters, limiting the home team to just 3-of-15 from long range.

The second half would have a much faster pace. After taking a 32-26 halftime lead, the Little Giants went three minutes without getting a shot off after committing three straight turnovers. Michael Woods ended the scoreless streak with a putback basket to answer a 4-0 OWU scoring run to start the period. But three consecutive treys gave the Bishops a 9-3 run, allowing them to take a 40-37 lead with 12:16 remaining.

An Andrew Zimmer basket and a Medeiros three put Wabash back in front by two. But the teams continued to trade baskets over the next seven minutes before Ohio Wesleyan scored on three straight possessions again to move in front by four. A fast break basket by Lyttle ended the streak, and a rebound by the Little Giants gave them a chance to tie the contest. The Bishops rallied when a steal led to a layup by Ross Rybarczyk, giving Ohio Wesleyan a 54-50 lead with 3:10 left.

Medeiros answered for Wabash. After milking the shot clock to seven seconds, the senior drained a three-pointer to cut the lead to one. Rybarczyk came right back with a three of his own to put the Bishops back in front 57-53.

The Wabash defense came up with one of its biggest stops of the game when Zimmer blocked a three by Bryan King and the loose ball rebound went the Little Giants. After back-to-back turnovers with just a minute to go in the contest, Wabash set the offense for the game-tying shot.

That shot would never come. Another turnover with just over 35 seconds forced the Little Giants to foul in an attempt to get the basketball. Rybarczyk hit both charity tosses to put the Bishops up four. A missed layup by the Little Giants sealed their fate, ending the streak and dropping them into third place in the league standings.

Medieros led the Little Giants with 16 points. Lyttle added 11. Ryan Stephens came off the bench to grab seven rebounds, leading the team. Andy Warnock finished with 12 point to lead the Bishops in scoring, while Rybarczyk had 10 points.

The Little Giants return to Chadwick Court Saturday afternoon for a 2 p.m. contest against the number three-ranked Fighting Scots from the College of Wooster.




Results: Ohio Wesleyan 61, Wabash 55 Game Stats