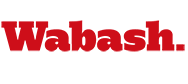 Man Who Led Atlanta's MLK Center to Speak Tonight
by Howard W. Hewitt

January 11, 2006

A man who has worked with some of the nation's top civil rights leaders will speak at Wabash College tonight.

Dr. Calvin Sylvester Morris will deliver a speech, "Dr. Martin Luther King Jr.: An Example of Service and Volunteerism for the 21st Century" at 8 p.m., Monday, in Baxter Hall, Room 101. His visit is sponsored by Wabash College's Malcolm X Institute in honor of Dr. King's birthday and the national Dr. Martin Luther King holiday.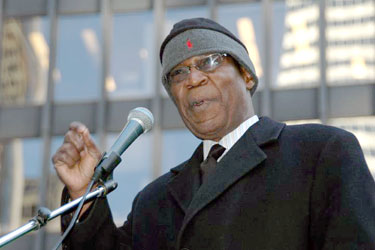 Morris has served since 1998 as the executive director of the Community Renewal Society in Chicago. But his ties to the civil rights movement come from his involvement with key leadership organizations in the late 60s and early 1970s.
At the request of Reverend Jesse Jackson, Morris became the associate director and national coordinator of the Southern Christian Leadership Conference's Operation Breadbasket, now the Rainbow-PUSH Coalition. He served in that capacity from 1967 to 1971, through the assassination of Dr. King.
Then after two years as coordinator of African American Studies at Simmons College in Boston, he returned to Atlanta as executive director of the Martin Luther King, Jr. Center for Non-violent Social Change until 1976. We worked closely with King's widow, Coretta Scott King, during his time with The King Center.
He moved on to establish a 16-year relationship with Howard University's School of Divinity. He earned his Ph.D. in American history from Boston University in 1982.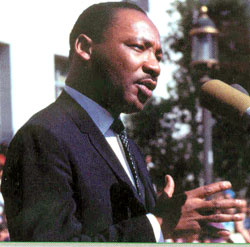 Morris is a Philadelphia native and graduate of Lincoln University in Oxford, Penn., graduating cum laude with a history degree. He earned an M.A. in history and S.B.T. in theology from Boston University in 1967. He is also an ordained United Methodist minister.
His work at the Community Renewal Society includes supervising two publications, a staff of 47 people and a $4.5 million budget. He is a board member of the Golden Apple Foundation, Chicago Chamber Musicians, Chicago Theater Company, Sojourner and the Wieboldt Foundation.
He is a co-convener of the Justice Coalition of Greater Chicago and is a co-chairman of Jobs for Justice Clergy Committee. He was elected treasurer of the Board of Trustee of Lincoln University, his alma mater.
His biography reads "his professional experience has placed him in key leadership roles in faith-based, community-based and educationally centered institutions. His background holds an interesting blend of scholarly and management experiences in religious and educational institutions and executive management experience in organizations committed to racial, social, and economic justice.
Dr. Morris will be guest of the MXI for a dinner and reception prior to his evening remarks.
In photos:
Above right: Dr. Morris delivering a speech.
Bottom left: Dr. Martin Luther King Jr.