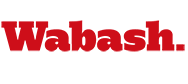 Evansville Men Build Play Set
by Steve Charles

October 31, 2005

Sarah Wolf got goose bumps last Saturday, but not the type you'd expect the weekend before Halloween.

"This is incredible," said Wolf, director of the House of Bread and Peace, as she watched a dozen Wabash College alumni assemble and set up the play set they had purchased for this Evansville shelter for women. "This is something we've needed for a long time."

Evansville psychiatrist Dr. Thom Liffick '73, medical director at the Southwestern Indian Mental Health Center, organized the project through the Evansville Association of Wabash Men. (See photo album one and album two of Evansville men at work.)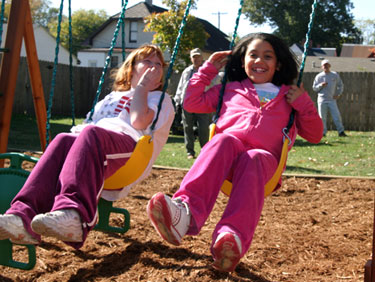 "I was aware of The House of Bread and Peace through my work as a psychiatrist," Liffick said. "They have taken in homeless individuals that they have asked me to see, and they have taken in patients of our programs who became homeless. They've been the most accommodating
shelter in our area for these special needs folks, so I respect their work."
When Liffick called Wolf, she told him about the need for a play set. She said they'd considered appealing to an organization to purchase a set, and another organization to build it, but had not been able to put together the funding or manpower.
"I called Tom Topper '70 and pitched the idea to him, and he suggested that we offer to purchase the set and put it together," Liffick said. " We scheduled a meeting of the Evansville Association
of Wabash Men and developed the plan of action."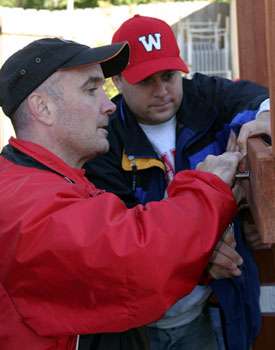 With the help of Liffick's father-in-law, contractor Chris Nix, the group of doctors, lawyers, a banker, a researcher, a teacher, and businessmen, took about five hours to complete the project. For the
last hour, three kids stared from the window in anticipation.
"When good things come together like this, it gives you goose bumps," Wolf said. "We try to help the women who come here feel at home. To have a place where their children can play, and where the women can relax and watch them, can make a big difference."
Wabash Men who worked on the project included: Conor O'Daniel '93; Reece Collins '04; Chris Nix: Tom Cheek (father of Garth Cheek '06), Paul Ferguson '77, Lee Hoagland '94 (with Buddy
Hoagland and Aaron Armstrong); Ryan Rapp '98; Paul Parkison '89; Tom Topper '70; and Thom Liffick '73.
In photos:
At top: Two little girls were ready to test the new playground equipment the moment the Wabash men had completed their work.
At right: Paul Parkison '89 and Ryan Rapp '98 won on building the playset.