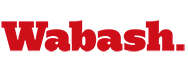 Bloomington Men Give Youth Center a Hand
October 31, 2005

Bloomington's group of Wabash men spent their day at the Rhino Youth Club The center offers an alcohol-and tobacco-free environment for middle school through high school students after school with the focus on computer learning, graphic design, and writing/publishing. They also offer music and entertainment on Friday and Saturday nights.

About a dozen Wabash men turned out to clean up debris and do some exterior painting Oct. 29. (See photo album of Bloomington alums at work.)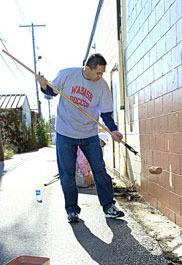 "Most stayed well beyond the 1-2 hours we asked them, with easily three-quarters putting in at least 3-4 hours," said co-chair Pat East '00. "The center where we did the volunteer work, could not have been more pleased that someone was willing to volunteer and we had so many eager volunteers! I estimate they would have spent roughly $1,000-1,500 to hire a crew to do the work we did - which they would have done otherwise.
"People stayed longer than they originally volunteered for. Most guys skipped lunch to keep working. Some brought their own tools. Some went out to purchase more tools (which were donated to the center). Overall, this was a very classy event, which was made so by the participants."
And as the Wabash Day organizers have learned, the event has brought alumni together in ways they didn't initially predict.

"We're all getting together at a local bar (where a Wabash alum is manager) for the Colts versus Patriots Monday Night Football game in a few weeks," East said. "I think there's 2-3 of us that will continue to stay in touch beyond that game."
East estimated the dozen men put in 50-75 man hours to benefit the youth center. He has become a big booster, in the process, of the Wabash Day concept.
"I made some good friends, we did some much needed work, and Wabash gained a few new supporters," he reports. "We should definitely do this again next year."
Bloomington area alums participating included: Dave Coates '99, Jason Starkey '99, Bill Steger '66, Mark Manchak '03, Dave Schilling '82, Michael LoPrete '02, Andy Oler '00, Parker Collins '05, Alex Barefoot '04, Matt Warner '01, Han Chuan Ong '00, Pat East '00, Dustin DeNeal '04.

In photo: Pat East rolls on a fresh coat of paint.