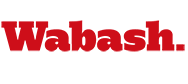 Little Giants Hang On For 27-21 Win At Allegheny
by Brent Harris

October 29, 2005

MEADVILLE, Pa. - Wabash earned at least a share of the North Coast Athletic Conference football title with its 27-21 victory at Allegheny College Saturday afternoon. But it was every bit as tough as the 6-point score would indicate.

Despite a three-touchdown effort from senior quarterback Russ Harbaugh, it was the Wabash defense coming up with a big stop on the Gators' final offensive play that allowed Wabash to move to 8-0 overall and 6-0 in the NCAC. (See game photo album. Click here for more photos from the Wabash-Allegheny game.)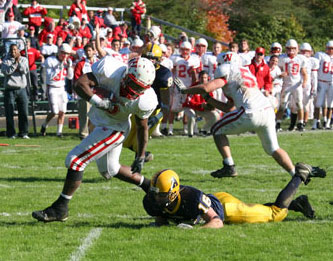 Trailing by six with the clock down to 2:21, Allegheny quarterback Jimmy Savage fired a pass toward running back Mario Tarquinio. But senior linebacker Aaron Selby stepped in front of the intended receiver and knocked the ball down to end the drive. Last week it was Selby's tackle on fourth down against Wittenberg that earned him NCAC Defensive Player of the Week honors.
Wabash coach Chris Creighton was happy with the win but told his team they did not play to their potential. He reminded the Little Giants their goal all season has been to play great. But after praising Allegheny's effort and repeatedly pleading for a better effort next week, he asked the team's record. "8-0," the players responded in unison.
Creighton wanted the Little Giants to get off to a fast start. They did that, taking a 13-0 lead on the first two possessions of the game. Harbaugh capped a 75-yard scoring drive when he hit Eric Summers with a 34-yard pass for the first score of the game. After the defense gave the ball back to the offense, Harbaugh led the team back to the end zone with a 69-yard drive with a four-yard pass to Mike Russell.
"I think we knew they were a good team, probably one of best 1-6 teams ever," Russell said. "Allegheny is always tough and always good at home. We won but it wasn't the way we wanted to win."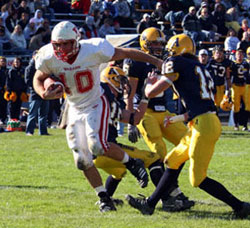 It seemed the Little Giants would take a commanding lead with that 13-0 halftime advantage and an opening third quarter drive that marched to the 5-yard line and seemed ready for another score. Allegheny brought defensive pressure, forcing Harbaugh to loft a pass toward the end zone that was picked off by the Gators' Brad Stotsky. The Gators' leading defensive player raced down the sideline for an 84-yard interception return before being forced out of bounds by Brandon Roop. But the big play set up a two-yard scoring drive when Tarquinio rumbled across the goal line to trim the lead to 13-7.

Harbaugh responded the same way he did the last time he threw an interception (105 pass attempts ago). He marched the Little Giants down field until, on fourth and five, he hit Ray Green on a 24-yard pass to put Wabash in front 21-7.

The Gators would rally this time under Savage's direction and Tarquinio's running. Savage threw to his favorite target, Jim Leib, with a 15-yard TD pass to trim the Wabash lead back to seven points. Leib had 10 receptions for 117 yards and a score.

The Little Giants answered the Allegheny score with one of their own. Wabash moved 63 yards in seven plays, but more importantly it took 3:37 off the game clock to score on a nine-yard run by Don Juan Brown. The junior running back, who had been sidelined with injuries much of the season, gave Wabash a 13-point lead with 7:17 left in the game.

"I'm still going through rehab and trying to recover, and it just happened to go my way today," Brown said. "I'm still trying to recover. I'm still going week by week and trying to get better. I'm not like I was at the beginning of season when we played Kalamazoo. But this is the best I've felt since the injury"

The game was far from over, however. Tarquinio scored his second TD of the game on an 18-yard pass from Savage with 4:26 left. Wabash took the kickoff in its own territory, but a sack and personal foul penalty pushed the Little Giants to their own 15 yard line on fourth down. Chad Finley lifted a 42-yard punt to set up the final offensive drive for Allegheny. Two incomplete passes and toss to Tarquinio for seven yards made it fourth down. Looking for Tarquinio on the Allegheny sidelines, Savage's pass was knocked down by Selby. The Little Giants ran out the clock on offense, preserving the win.

"I didn't it expect it to be this tough but they came out to play," Brown said. "Some things didn't go our way so it was a tougher game than we expected but that's not to say we weren't prepared for it, but it was tougher than we expected."

Harbaugh threw for 309 yards (30-of-39 with one interception and three TDs). Summers, coming off back-to-back 100-yard receiving games, managed another big week with six receptions for 73 yards and one score. Russell led the Wabash receivers with eight catches for 89 yards.

"They were playing a defense that was good for number-one receivers, and that's what I do." Summers said. "I just kept getting the ball and I tried to make as much out of it as I could."

The Little Giants will attempt to remain undefeated in conference play and claim the outright league title with its final NCAC game of the season next week. Wabash will play host to Denison University at 1 p.m. at Byron P. Hollett Little Giant Stadium.

Harris is Wabash College Sports Information Director. Howard Hewitt, Web Editor, also contributed to this story and shot the photos.

In photos:

Top left: Don Juan Brown scores on a 9-yard run to put the Little Giants up 27-14.

On right: Brandon Roop had a big hole for this third quarter two-point conversion run.

On home page: Eric Summers scores the game's first touchdown.

QUICK HITTERS

--- Russ Harbaugh has thrown for 2,469. He is seventh on the Wabash single season passing list, trailing Dave Harvey '78 in sixth with 2,497 in the 1977 season. Jake Knott '03 owns the record with 2,954 yards in 2002.

--- Justin Gardiner picked off an Allegheny pass for his second career interception and 13th of the season for the Little Giants

--- Adrian Pynenberg led the defense with 15 tackles, tying his career best effort. He had 1-1/2 tackles for losses totaling three yards, moving him to a tie for sixth on the single-season list with Blair Hammer '04. Blair's brother, BJ Hammer '01 owns the single season record with 23 in 2000.

--- Wabash can win its second NCAC title since joining the league for football in 2000. The Little Giants went 7-0 in NCAC play in 2002 on the way to a 12-1 season and a berth in the NCAA Division III playoffs.




Results: Wabash 27, Allegheny 21 Game Stats