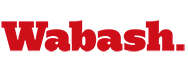 Hoosier Business
by Tahir Ahmed '07

July 20, 2005

Did you know that the world's largest potato chip factory is located in Frankfort, Indiana?
Did you know that the two largest popcorn manufacturers in the world, Orville Redenbacher and Weaver Popcorn, started in Indiana?
Weaver Popcorn produces almost 30 percent of the world's popcorn. Despite Indiana's popularity in producing corn, the state also has a wealth of non-agro based industries located here. Recent years have seen car manufacturers such as General Motors, DaimlerChrysler, and Toyota set up facilities in the state. Cummins and Rolls Royce also build their engines in Indiana. Eli Lilly and Company, one of the world's leading pharmaceutical manufacturers also finds its home in Indianapolis.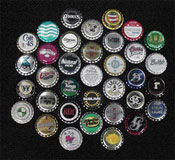 The Hoosier state is home to U.S.A.'s only steel bottle cap manufacturing company which goes by the name of Crown Cork and Seal and its facility is located in Crawfordsville. Crown Cork and Seal provides the community with stable jobs and has about 100 employees.
The facility produces about six billion "crowns" a year and caters mostly to the beer and beverage industry. Its customers include Anheuser-Busch, Coors Brewing Company, Coca-Cola, and Pepsi. The company does face competition from firms located overseas, but the quality of their product allows them to control about 30% of the market in the United States and Canada. Being located in the Midwest allows them to cater to the needs of customers all over the country.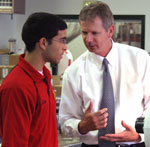 Tahir Ahmed '07 is from West Bengal, India.
In photo: Tahir learns about the label-making business from Hi-Tech Label President and owner Dan Scott.