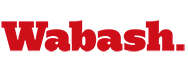 Organists Gerre and Judith Hancock to Give Duo Recital at Wabash
by Karen Handley

January 24, 2005

Get directions to Wabash College Chapel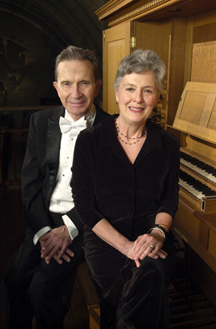 The Music Department at Wabash College invites the public to the seventh annual Roger H. Ide Organ Recital on Sunday afternoon, January 30 at 3:00 p.m. in the Wabash College Chapel. This year's recital will be played by Gerre and Judith Hancock.
Gerre and Judith Hancock have lived and worked together under the same roof for so many years, it is only natural that they should enjoy playing duo recitals together. Their programs are a mix of solo pieces by each artist, duets, and an improvisation by Gerre Hancock.
The program will include La Nativité du Seigneur by Olivier Messiaen; two Chorale Preludes on In dulci jubilo by Johann Sebastian Bach; Duet for Organ by Samuel Wesley; Variations sur un Noel pour Orgue, Opus 20 by Marcel Dupre; Sonata in D minor, Opus 30 by Gustav Adolf Merkel; Two Sonatas for Two Keyboards by Bernardo Pasquini; Bring a Torch, Jeanette Isabella ; and Improvisation on Submitted Themes: A Prelude and Fugue.
Gerre Hancock is a member of the faculty of the School of Music at the University of Texas at Austin. Prior to this appointment, he was Organist and Master of the Choristers at St. Thomas Church in New York City. He has served on the faculty of The Juilliard School and taught improvisation on a visiting basis at the Institute of Sacred Music at Yale University and The Eastman School of Music. Famous for his choral conducting, his fine compositions for choir and organ, and his witty, musical and electrifying improvisations, he is one of America's most popular concert organists. His educational background included the University of Texas, Union Theological Seminary in New York City and study in Paris. He has been awarded the Doctor of Music degree by Nashotah House Seminary and by the University of the South, and the doctor of Divinity degree by the General Theological Seminary in New York.
It was at Union Seminary that he met his wife, who had come to New York after graduating from Syracuse University, where she studied with the renowned Arthur Poister. Judith Hancock is a member of the Faculty of the School of Music at the University of Texas at Austin, where with her husband, she teaches sacred music. Several years ago, Ms. Hancock established an on-going series of organ recitals at St. Thomas in New York, performing several times during each season. Recent series have included music for trumpet and organ, Two Organists at One Keyboard (performed with Gerre Hancock), The Great German Tradition, and The Great French Tradition. In 2004 she was awarded the degree Doctor of Sacred Music (Honoris causa) from St. Dunstan's College of Sacred Music, Providence, Rhode Island
Both Hancocks appear on CDs produced by Decca/Argo, Koch International, Priory Records and Gothic Records.
The concert is free and open to the public.