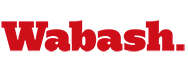 Hewitt Brothers Lead Little Giant Swim Team
by TJ Brammer

December 16, 2004

Wabash College's swimming depth chart lists 13 events. Ten of them feature at least one of the Hewitt brothers, Ben or Michael, among the top four.

Beyond the Center Grove graduates' competitive desire, both have become team leaders. And they're happy to extend the family tradition at Wabash.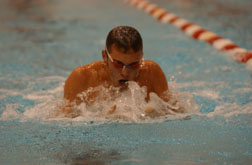 "I couldn't ask for better competitors when the meet is on the line," said the Little Giants' third-year coach Peter Casares. "They both have done an excellent job as teammates and leaders. You can see they're both from the same family."

The Hewitts were close to not being able to compete together at the collegiate level. Michael, now a sophomore, appeared to have forsaken the opportunity to swim with his older brother after he signed papers to compete at Indiana. It wasn't until the summer after his senior year that the younger brother switched gears and decided to attend Wabash.

Michael thinks the switch was the right decision.

"I wouldn't change a thing," Michael said. "We get at each other in practice a little bit, but not much.

"It's a lot different from high school. The season's a little longer, but the goals are still the same -- swim fast, have fun."

This is Ben's final season in the program. (He's shown swimming breaststroke in photo above.) He's made his mark in the pool, holding the school's third and sixth-best times in the 200-meter breaststroke. But the Spanish major has contributed perhaps more heavily to the team's psyche than record.

As a senior and the team's captain, Ben is the unquestioned team leader. Casares said his leadership has helped elevate the team to the No.-10 ranking in NCAA Division III.

"Ben has been the guiding force behind the team this year," Casares said. "He's maintained a strong focus on swimming and his goals. He has goals, wants to bring the team with him and will do everything he can to get there."

Casares also considers Michael a pool admiral.

"He seems to be more in tune and more focused the more pressure there is at a meet," Casares said. "That has been his trademark since he's gotten here."

Ben said he enjoys the captain's role, but team accolades can't replace the chance to spend two years with his younger brother.

"Having him on the ride, it's been pretty special," said Ben, a member of Phi Kappa Psi fraternity. "He's definitely made me a better swimmer. He's made me more competitive, made me work harder.

"That's just been the way it is between us forever."

After graduation, Ben plans on working either in business or with the Hispanic community in Indianapolis or elsewhere. He's awaiting his chance to make a difference, but isn't ripe with anticipation for a future devoid of swimming.

"It's been a part of my life for 16 years, so it's just as much a part of me as the back of my hand," he said. "Waking up and not smelling like chlorine, the smell of the pool deck every day when you come in, getting in the water for the first time that day. I'm sure it's going to be hard."

Michael has two more years, and like Ben, may have a younger brother to look after on the Crawfordsville campus. Pete Hewitt, a junior swimmer at Center Grove, is interested in following the family footsteps and attending Wabash. The boys' father, Tim, is a 1972 Wabash graduate.

If Pete does attend Wabash, Michael would welcome his brother to the team.

"I'm sure I'll make the best of it," Michael said.

T.J. Brammer is a reporter for the Indianapolis Star. This story was published in Johnson A.M. Dec. 11, a section of the paper published on the city's southside Tuesday through Saturdays.




For more information see: