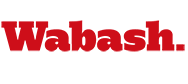 1975 Graduate Giving Gift of Life
by Dann Denny

December 13, 2004

Barb Sturbaum will receive an early Christmas gift this year — one she will never forget.


It will come courtesy of her husband of 29 years, Chris, 1975 Wabash graduate. And she'll cherish it more than she would a new Lexus adorned with a giant red bow.


It's the gift of life.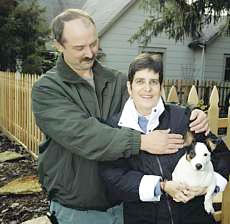 At 8:30 a.m. Tuesday in Methodist Hospital in Indianapolis, Chris will allow surgeons to remove his left kidney and place it into Barb's body.


"It's incredible," said Barb, who four years ago was diagnosed with polycystic kidney disease, which causes cysts to form on the kidneys. "There aren't words to describe how it makes me feel to know he loves me enough to do this."


Chris downplays the act, calling it a no-brainer.


"It just seems natural and right," he said. "We like the idea of keeping this thing in the family."
A member of the Bloomington City Council who also is known for his work in historic preservation, Chris is thrilled for the opportunity to be involved in spousal preservation.

"We were facing the specter of two years of dialysis three times a week, and all the illness and uncertainty that would involve," he said. "We're so happy to have been given a reprieve from that."


Barb concurs, saying "there are so many illnesses that are terminal. We're counting our blessings that I have a problem that can be fixed."


Fortunately for the Sturbaums, Barb's health insurance and Medicare will cover most of the transplant-related costs — which should total around $143,000 plus another $1,000 a month in ongoing medications.


In May, Barb's doctor said her kidney function had deteriorated to such a degree that she would soon need either dialysis or a kidney transplant.


Her doctor referred her to Methodist Hospital, where transplant specialists told her she could seek a transplanted kidney from either a living donor or a deceased donor.


"They told me it's often better to use a living donor because the kidney does not have to undergo the trauma of death and transport," she said. "Plus, in Indiana, the average wait for a cadaver kidney is 18 months."


So last June, Chris was tested as a possible donor, requiring a series of trips to the Methodist Hospital. He was the only family member tested.


"Every time Barb and I would go to Indy for testing, we'd spend the whole day together and have a great time," said Chris. "We'd get poked and prodded, but the entire experience was fun, and it felt so right and good."


Tests showed Chris was not a perfect match, but close enough to successfully donate a kidney. He says Tuesday's transplant operation will come none too soon.


"Her kidney function was down to 12 percent, and they start dialysis at around 10 percent function," he said. "Without the transplant, she'd definitely be going on dialysis."


During the four-hour operation, surgeons will poke three holes in Chris' skin and use a laparoscope to disconnect his kidney. Then, after making a small slice in his skin, they'll gently slide his kidney out and place it into Barb.


"I thought we'd be side-by-side like Frankenstein monsters," said Chris. "But they're going to put us in separate rooms."


Following the surgery, Chris is expected to spend two to three days in the hospital and fully recover within two to three weeks.


Doctors expect Barb to spend six days in the hospital and fully recover in six weeks.


"They don't want me to return to work too early," said Barb, a full-time manager at Planned Parenthood. "Because I'll be on immunosuppressants and therefore susceptible to infection, they want me to stay away from large groups of people."


Barb, who is constantly sapped of energy because of her condition, is looking forward to having more strength to resume her job; and to enjoy her friends and family — most notably her husband.
"Chris and I are best friends," she said. "We're comfortable enjoying the small things together — reading the paper at breakfast, watching TV at night, walking our three dogs."


The two lovebirds first met in high school biology class and had their first kiss under a sprawling oak tree on the Indiana University campus.


"She's a special person," he said. "I can't imagine life without her."


Though Barb says Chris' kidney is the best Christmas gift she's ever received, he says he will still buy her some presents this year.


"Oh yes, I'll do some shopping," he said, adding that the family also celebrates Hanukkah. "This doesn't let me off the hook."

Denny is a staff writer for the Bloomington Herald-Times newspaper.




For more information see: