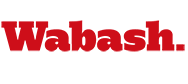 Photos From Summer Expedition on Exhibit
by Steve Charles

December 9, 2004

When Wabash senior Jeremy West woke up near Antonita, Colorado with a ruptured eardrum, Professor Doug Calisch rushed him to the emergency room. Tagging along were 11 of Jeremy's classmates.

As Jeremy received medical treatment, his classmates grabbed their cameras and hit the streets.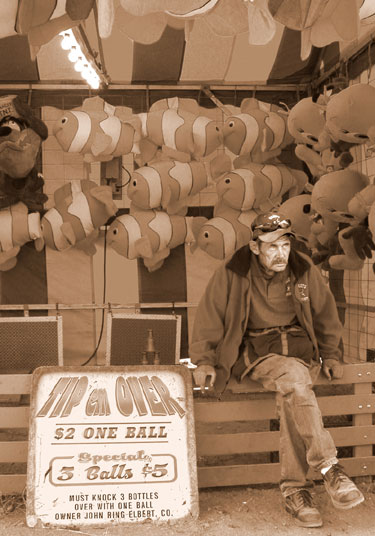 "It was certainly an unpredictable stop," says Calisch, who last summer took the group of 12 Wabash students West on a three-week photographic expedition as part of the College's Art 124 course. But Calisch and his students had talked about the ways the creative way an artist responds to such "serendipitous" opportunities.

"I knew I could trust these guys not to get into trouble; I knew they'd take pictures, and they did. And some of their best images came from that excursion into Antonita—a stop we'd never planned to make."

Those images and other selections from the photographers' work were presented Monday night at the opening of a weeklong exhibit in the rear wing of the Wabash College Fine Arts building.

Calisch says the agility to respond quickly to creative opportunities is just one advantage of teaching photography to students "on the road."

"It comes back to the way that students learn best, and they learn best in these types of concentrated experiences," says Calisch, who has led the summer photography expedition three times in the past six years. "We take them off campus and are with them day-in and day-out. It's not for everyone, but I love it—where life and learning become one."

Calisch's students were equally enthused.

"Life is passionate behind a camera," sophomore Nic Bitting wrote in his journal during the trip. "Instead of passing glances, instead of looking at life, we begin to look for life. Beauty, simplicity, spontaneity, ugliness—whatever it may be we search for it. We search to reveal that life is full. Not perfect, but definitely full."

"After three weeks of camping, shooting, and traveling, I have a much greater understanding and appreciation for what the "West" encompasses," wrote sophomore Nate Mullendore. "As I look at my Ziploc bag and the sixteen rolls of film inside, I can only hope that I have managed to capture it on film."

"After four days in one amazing place I've seemingly changed forever," senior Shaylan Owen wrote of Chromo Mountain Ranch, which Wabash alumnus Richard Gooding allowed the group to use as their home base during their time in New Mexico.

The students created not only images, but also a traveling community.

"These guys gelled quickly," Calisch says of the group, which also included computer support specialist Mike Heinold and his family and Wabash alumnus and summer photography "veteran" Kyle Nickel. "I could be less a disciplinarian, more a teacher, someone to share aesthetic and creative ideas. We had a family, we had kids—it was a real community, and it still feels like that when we get together for class. We still have that warmth, and the guys are at a level of intimacy where we can talk openly and honestly about the work, yet joke and have a good time, too."

The photos will remain on display until Dec. 14.




For more information see: