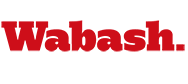 Wabash Women Deliver Study Bags
by Marilyn Smith

December 8, 2004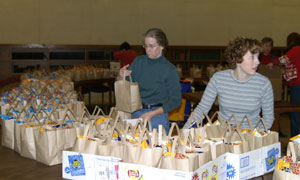 What student doesn't get a severe case of the munchies while studying for final exams? For 11 years, Wabash Women has offered Semester Exams Study Bags for sale to help curb healthy student appetites - with proceeds going to support worthy causes on campus and in the Crawfordsville community.
Wabash Women is a group of faculty, staff, and spouses that meets on campus throughout the year. One of its service projects includes the Semester Exams Study Bags.

The profits help support the Dean of Students Emergency Fund and community service programs in Montgomery County. The Dean's Emergency Fund is used for emergencies that arise for students, such as transportation home in case of a family illness or death, medical situations, emergency dental work, and other unanticipated needs.
Each year the fund is completely depleted, so the need is great. Last spring Wabash Women was able to give $2,500 to the Dean's Emergency Fund and $500 to the Even Start Literacy Program at the Beard Learning Center in Crawfordsville.
Each October and March the Deans' Office mails a letter and order form to parents, faculty, and staff. For $10.00 each, parents can send bags of goodies such as popcorn, candy bars, gum, granola bars, and drinks with personal messages and encouragement to their sons from home.
Faculty and staff often send bags to show appreciation to students who work in their offices.
Members of Wabash Women assembled the bags Dec. 10, and then the bags were delivered the night before finals began, Dec. 12. They prepared almost 400 bags for delivery for fall semester exams.
Nancy Kashon, who retired on December 10 after 15 years as the secretary to the Dean of the College, has coordinated the mailing of the parent letters since the Study Bag project began in 1993. Nancy has whole heartedly supported the project since its beginning.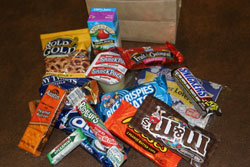 "The proceeds from the money we get from parents aids other students who might be in need of help, besides doing something special for their own sons." Kashon said. "Some parents even include extra money to send a study bag to their son's roommate, a friend, or a student who might not otherwise receive a study bag."
In past years, Wabash Women has supported Montgomery County groups like Christian Nursing Service, Youth Services Bureau, Montgomery County Cultural Foundation and Old Jail Museum, Abilities Services Inc., Boys & Girls Club, Crisis Pregnancy Assistance and Summer Lunch Program.
If you are an alumnus, friend, or parent who would like to send a study bag to a student for spring semester finals, look for more information on the web in March 2005.

In photo above right, Lynn Caraher and Karen Nelson prepare bags for delivery. Above left, the contents of the average snack bag.