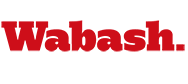 Shop Wabash College Bookstore for Christmas
by Jim Amidon

December 7, 2004

Get directions to Wabash College Sparks Center

I recently mentioned you might want to visit the Wabash College Bookstore for holiday shopping. I never imagined I'd get so much feedback on that little one-liner.

I've heard from Mike Bachner, who manages the bookstore. He said the store will be open regular daily hours right up until December 22, and his staff enjoys visiting with community folks who wander in. He also reminds me of the great collection of books by local, Indiana, and regional authors, as well as state park guides and all sorts of books of local interest.

I heard from Judy Wynne, who works in the bookstore, too. She wanted me to mention the Wabash Bookstore would love to secure books for local book clubs and reading clubs. She also pointed out that book clubs get a 25 percent discount if they order through the Wabash Bookstore.

Then I got some calls from readers of this paper, who wondered where the Wabash Bookstore is hidden. Yes, hidden is the right word, and I'm sorry that I don't always remember that most people are not as familiar with the Wabash campus as I am.

The Wabash Bookstore is located in the basement of the Frank Hugh Sparks Center. That's the building just south of Lilly Library on the Mall. Parking on the Mall can be tight during the day, but there are parking lots all around the campus. Once you enter the main doors of Sparks Center, hang a quick right then take the steps downstairs to the bookstore.

Somebody else wrote me to say they weren't interested in buying student textbooks. It's funny because when you think of a college bookstore, you think textbooks.

But textbooks make up only a small fraction of the total inventory that Bachner and his staff routinely stock. Textbooks are also just a fraction of total sales.

There are so many clothing items that I simply cannot mention them here. At least a dozen styles of baseball caps, stocking caps, and visors; probably 50 kinds of T-shirts; and at least two-dozen styles of sweatshirts had me dizzy counting.

The rack of children's books blew my mind. As I perused the collection, I noticed lots of books Chris and I have purchased for our daughter, Samantha, over the years. Popular titles like Goodnight Moon are in next to great Doctor Seuss books. Wonderful, colorful books by Eric Carle are nestled next to a hilarious book called Walter the Farting Dog. If you have a special little someone who loves to read, head to the back of the Wabash Bookstore.

Near the front of the store is more glass wear than most restaurants in town stock. There are coffee cups, beer mugs, and even shot glasses for those collectors on your list.

Also near the front of the store are best-selling books, books by Wabash faculty and alumni, volumes of poetry by award-winning writers, and lots of cookbooks and local titles.

And my favorite part of the store is easily the half-price bookshelf. This isn't the most well stocked part of the store, but I always find a large coffee table picture book that grabs my interest or a new cookbook. At the front counter are beautiful pen and pencil sets, as well as a collection of the last four Monon Bell football games on DVD.

Frustrated that Crawfordsville doesn't have a Barnes and Noble? Don't be. Wander on down to the Wabash College Bookstore in Sparks Center. Grab a cup of good coffee from the Scarlet Inn and wade through the stacks. Not only will you find something for everyone on your holiday shopping list, but you'll find some stocking stuffers for yourself, too.

Amidon writes this weekly column for the Crawfordsville Journal Review.