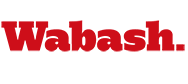 Football Team, Campus Preparing for Bell Battle
by Howard W. Hewitt

November 8, 2004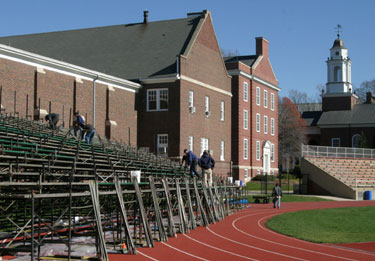 Freshmen are guarding campus, bleachers are going up around Byron P. Hollett Little Giant Stadium and the campus buzz is building. Wabash College and the Crawfordsville community are hosting the 111th Monon Bell Classic Saturday.
The Little Giants and DePauw University will battle for the 300-pound railroad bell beginning at 1:05 p.m. Saturday. Wabash has put in enough seats to accommodate 10,000 fans. If the stands are all filled, the 10,000 spectators would be a Monon Bell record.
"Everybody says it means a lot," Wabash wide receiver Brandon Clifton said. "It (the Bell game) just stirs the emotions on campus. It brings everyone together as family, people bond with the football team. It is something we all can have in common, the alums, students, family and players. We can all talk about the Bell and be one big Wabash family."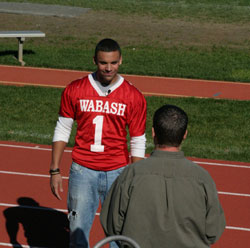 Clifton, a 6-1 receiver from McCutcheon High School in Lafayette in photo at left, could be a key figure when the rivalry renews this weekend. He leads the team in touchdowns with nine. And as a senior, figures he must lead off the field this week as well.
The Little Giants have several freshmen contributors who will play their first Monon Bell contest.
"What I want to tell those guys the next couple of days is a lot of players come into this game and try to do everything," Clifton said. "What they need to know is just do your job and do your responsibility and we'll come out victorious. They just need to relax and focus on what they're doing this week, try to get better and try to get their assignments done."
Little Giant coach Chris Creighton would agree. He said the 10,000 people isn't as big a deal as some suggest. Many of the top high school players have played in front of crowds that big or bigger.
"The thing that is hard to prepare guys for is the intensity of the crowd," Creighton explained. "It's not the number of people, it's the fact nobody sits down. It's like every play matters and there is intensity in the crowd on every play, seemingly from everybody. That's what makes it enormous.
"You start explaining to people there are different sets of tickets, different concession stands and different entries, then you can start talking about how all that's come about."
Preparing the freshmen and the entire team is a bit of a balancing act this week. Creighton doesn't want his team too wrapped up in the hype, but wants the emotion to spill over onto the field at 1:05 p.m. Saturday.
"I don't know if we try to defuse it all," Creighton said. "You want to use the hype of the game in a positive way so guys are excited. It's a fun game to play. We've worked hard to not make the Bell game the end-all."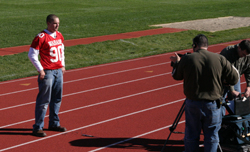 Creighton reminds players there are other achievements for the program beyond earning the Bell each year.

The routine will change some with a team meeting Friday night instead of Thursday. The Little Giants will go to camp off campus. Juniors usually honor senior players before the season's last game at that private team meeting.

Clifton will be one of those seniors in his last collegiate game. It first hit him during the recent three-game losing streak.

"I've had it for a few weeks now," Clifton said of the realization his career is nearly over. "It's been emotional. During high school I always knew I was going to go on to play so I didn't really have the experience a lot of my friends had. So this week I'm going through that, hopefully I'll go through it with a "W."

Little Giant Nick Williams, in photo above right, was one of four Little Giants interviewed Monday by a television production crew preparing for Saturday's national DirecTV telecast.




For more information see: