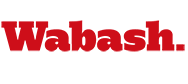 Wabash Wins 'Bleed for Bell' Again
by Howard W. Hewitt

November 4, 2004

Wabash College men have again claimed the "Bleed for the Bell" competition with DePauw University.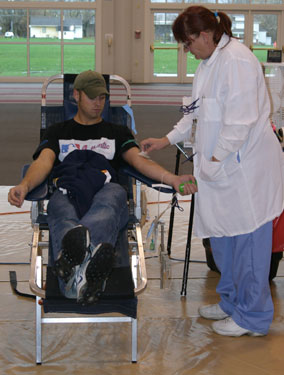 Wabash had 111 donors, or 13 percent of the student body, participating in the one-day blood drive. DePauw managed just 90 donors, or 7.3 percent of its student body, in a two-day blood drive.
Wabash College has 850 students to DePauw's more than 2,300.
Wabash College men, faculty and staff gave blood Nov. 4. There were 126 potential donors with 111 able to donate. Last year there were 113 donors.
The Lafayette chapter of the Indiana Blood Center set up beds in the Knowling Field House for the donors.
The "Bleed for the Bell" competition with Depauw began in 1995, but Wabash has won every year since 1996.
Austin Hart '07, seen in the accompanying photo, was the first student in the chair to begin this year's blood drive. Hart is a Kokomo native.
The campus living unit with the most donors wins a $50 prize; another $50 goes to the living unit with the highest percentage of donors.