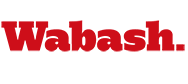 Wabash Mourns the Loss of Ryan Champion '07
by Jim Amidon

October 31, 2004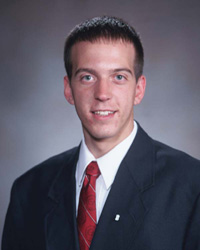 Wabash College mourns the loss of Ryan W. Champion, a sophomore from North Vernon, Indiana, who was killed Friday night in a two-car accident on U.S. 231 south of Romney, Indiana.
Champion and his Beta Theta Pi pledge brother, Brandon Ehrie, were returning from having dinner in Lafayette when a northbound vehicle crossed the center line and crashed into Champion's car at 7:55 p.m. The driver of the other car, Benjamin Medez Cruz, had a blood alcohol content of .015, though Tippecanoe County Sheriff's deputy Lt. Rick Blacker said that alcohol was "not being considered the sole factor in the cause of the crash."
Champion was a biology major and spent the summer as an intern in the Wabash Financial Aid Office. He also worked as a Student Assistant in the Wabash College Admissions Office. Most recently he was cast in the Wabash Theater production of "1776," a role director Jim Fisher said was sort of "thankless" in that he delivered all of the dispatches from General Washington.
Says Fisher, "Ryan indicated a great interest in theater had grown out of the production for him and he hoped to be involved in future theater productions .He was extremely intelligent and very funny. Just a great big-hearted guy. He was very responsive to direction and extremely good-humored and well-liked by the cast and crew."
Ehrie was injured in the accident. He was treated at St. Elizabeth's Hospital and kept overnight. He was released Saturday afternoon.
Funeral arrangements for Ryan Champion are pending.
Expressions of sympathy can be emailed to beta@landrigan.com or to Chapter President William Goff, 513 West Wabash Avenue, Crawfordsville, Indiana 47933. They will be forwarded.