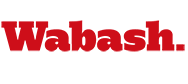 Secretary of State Rokita '92 Urges Students to Vote
by Howard W. Hewitt

October 21, 2004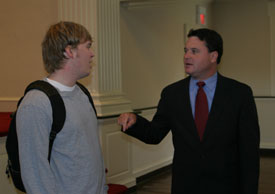 Voters age 18-24 participate less than any other demographic group in the country.
Indiana Secretary of State Todd Rokita, a 1992 Wabash graduate, told students during a morning Chapel speech Oct. 21 that he expects the numbers to go up this year.
"A lot more attention is being paid to them," he said. "This election is going to be a litmus test. I don't know if the trend will change but we'll see. We can't tell because we're not, by law, allowed to ask how old you are other than if you're 18.
"There seems to be a lot more groups focusing on 18 to 24 year olds. Will they come to the polls, we'll know on Nov. 3. I assume it's going to be good and it's going to go up."
Rokita urged Wabash students to participate in the Nov. 2 election and talked about the mechanics of registration, residency issues and the impact of the 2000 general election.
"We have better law now," Rokita said. "We have a new concept called provisional balloting. As a last resort if the only alternative was to turn a voter away we let them cast their ballot, not on the machines to be counted immediately, but on a piece of paper so we can go back to the courthouse and can examine whether or not it was a clerical error that the person was taken off."
If the error was clerical, the paper ballot would be counted Rokita said. If a person was at the wrong polling place, or not legally able to vote, their ballot would be discarded.
The controversy of 2000 had a positive impact for Indiana.
"We've been able to get rid of a lot of old equipment," Rokita said. "In 2000, over 50 percent of Hoosier voters voted on what has become the much-maligned punch-card machines – as of today that's fewer than 14 percent and we'll be at zero percent by 2006."
Rokita (pictured above with student Glenn Heck '06) told students they were leaders in changing voting perceptions.
"Our generation has the opportunity to change the culture," the 34-year-old said. "We can mainstream the process of voting back into our lives."
He applauded efforts such as MTV's Rock the Vote campaign.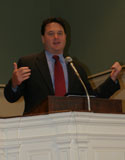 During his opening remarks Rokita shared his path from Wabash College to the Secretary of State's office. He told students the classical studies he enjoyed at Wabash guide him every day in his decision making.

He joined the Secretary of State's office after practicing law. Sue Anne Gilroy, a Crawfordsville native, was the officeholder at the time. He then sought election in 2002 after participating in the 2000 Florida re-count effort.

Rokita said after the Florida experience he felt more young people needed to get involved and it provided the motivation he needed to run for statewide office.

"The opportunity that came out of 2000, from a people standpoint, is that everyone is watching. We see all the voter registration has gone up and people are taking this a lot more seriously. I'm not scared by that, I think that's a good thing."

Rokita said voter registration has been the heaviest this year since 1996, with more than 200,000 new registered Hoosier voters.




For more information see: