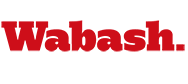 Limestone artist shares skills with Wabash students
by Howard W. Hewitt

October 13, 2004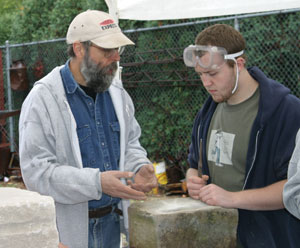 A white dust fills the air and pebbles fly in several directions. The sound of a hammer and then a saw or drill creates a piercing diversion.
The environment is not the typical Wabash College classroom, but then again perhaps it is. New experiences taught by prominent leaders in their field have always been part of the Wabash tradition.
Bloomington-based artist Dale Enochs spent Wednesday afternoon working with Doug Calisch's sculpture class giving them their first experience in limestone art. Enoch's work has been on display in the College's Eric Dean Gallery. The exhibit closed Wednesday with the author giving brief noontime remarks then working in the classroom setting.
"I really enjoy working with the kids," Enochs said. "There seems to be a great deal of enthusiasm and curiosity. I learned from a number of different people and now I have an opportunity to help share that."
The artist displayed and demonstrated the various tools he uses to create artwork that is now on display at White River Gardens in Indianapolis, Prophetstown in Tippecanoe County, and in Takihata, Japan. His work has also been featured on a segment of the HGTV show, Modern Masters.
After an hour of demonstrating how he works with the stone found throughout Southern Indiana, he gave students a chance to work with the limestone under his tutelage.
"I've worked with most everything, paint and sculpture, but I've never worked with stone before," Garen Robie '07 said. "It's definitely different than other things I've carved like wood."
Enochs feels a connection to Indiana limestone that he hopes the students picked up on during his visit.
"We're in Indiana; it's part of our location in the world," Enochs explained. "People have different experiences with the material, mostly buildings. They know about the Empire State Building, the Federal Triangle, and all that stuff. They know it's quarried in Southern Indiana.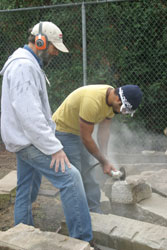 "I think there is a connection to the material. That's something I feel strongly about. I feel connected because that's where I live and I think that connection is very important."

Robie, an art major planning to soon spend a semester as an art intern in the New York arts program, identified with the artists connection to the medium.

"I like the whole idea of using art to express certain intangible qualities about humanity," the sophomore said. "You take these qualities or ideas that can't be expressed vocally and create a sort of sensuous form or image that relates somehow to interpretation."

Calisch said that sort of connection with the artist and understanding the artist's work is what he hopes to accomplish when Wabash can have an artist of Enoch's stature work with students.

"I've always thought that at a small school where you only have one or two people in the art department that getting a new voice on campus, getting the students exposed to another artist doing something different than what we do here, is a real valuable experience.

"Dale is an international figure in the limestone carving world. He's done commission work in several countries and all across the United States. I think the students know that and they respond to fact he's been around and made a name for himself."




For more information see: