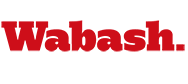 Wabash hosts Wooster in key NCAC matchup
by Jim Amidon

October 12, 2004
For years we tried to make sure the Wabash College football team always played an away football game during Fall Break weekend. Most of the time we were successful, but there were those rare times when the Little Giants would play a home game with half-filled stands.
When the College joined the North Coast Athletic Conference, we surrendered our ability to manage our schedule. What leverage we had with our new league was used up when Wabash insisted that it would always be able to play a non-conference game the last weekend of the season; a little affair called Monon Bell.
Classes end Wednesday afternoon this week and most students will go home for Fall Break. Not only does the Little Giant football team play a home game, it plays a monstrous game!
Wabash will host the College of Wooster Saturday at 1 p.m. with first place in the NCAC on the line. Both teams come into the game ranked among the top-20 teams in Division III, and Wooster boasts the best small college running back there is — Tony Sutton. Former Crawfordsville High School standout Evan Watson will also suit up for the gold and black.
With few students on campus and the pledge classes not cheering, Coach Chris Creighton, his staff, and the players hope you'll come out to the stadium to enjoy an afternoon of terrific Division III football.
There will be no admission fee. Hot dogs are only a buck, and proceeds go to charity. And I can almost guarantee you'll get a great seat.
Mark your calendar now so that you'll remember you have a date with the Little Giants this Saturday.
Perhaps while doing so, you'll bump into and meet some of our most loyal and prestigious alumni. Members of the Board of Trustees will be on campus for an extended weekend of meetings, which come to an end in time for the big game against Wooster.
The Trustees will be on campus starting Thursday as they begin to put some flesh on the College's next strategic plan. So much has been accomplished at Wabash over the last five years that Board members are anxious to identify those elements of the last plan that were most successful and those that ought not be continued.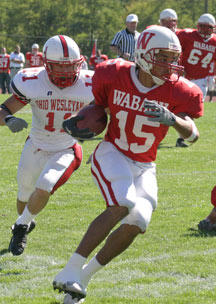 The last plan produced scads of new research and internship opportunities, Immersion Learning courses, and helped improve Wabash's commitment to technology.

What will the next plan include? At this point it's hard to tell, but I have a hunch plans will include efforts to better unify the student body, that in turn will improve student retention and graduation rates. We'll see a focus on how Wabash prepares its students for life after college. And I imagine the new plan will include technology woven into everything we do.

So, while the students are away, there's a lot going on at Wabash this weekend. The Board is here, the football team hosts a nationally ranked opponent, and the swimming and diving team kicks off its season with an intrasquad scrimmage Saturday night at 6 p.m.

If you missed our Community Day in September, now's the time to visit Wabash and check out the football team. And the best part of all is that parking should not be a problem.

See you Saturday.

Jim Amidon is director of public affairs and marketing and secretary of Wabash College




For more information see: