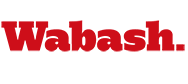 Wabash's 1776 continues through weekend
by Karen Handley

September 28, 2004

Get directions to Wabash College Fine Arts Center

Crawfordsville, Ind.— There is still time to catch the Wabash College Theater Department's first theater production of the season, the musical, 1776, which will continues October 8-9 in Ball Theater in the Fine Arts Center on the Wabash campus. The performances are scheduled for 8 p.m. each evening with the exception of a special matinee performance at 2 p.m. on Saturday, Oct. 9. It is Wabash's first full scale musical theater production in over 20 years.

1776, a legendary and unique Broadway musical, was first performed in 1969 (becoming a lavish screen musical in 1972) and received the Tony Award as Best Musical. 1776 is set in the Continental Congress in May, June, and July 1776 as the founding fathers struggle against congressional apathy, military disaster, personal pressures, and Philadelphia's blazing heat wave to establish the USA. Musical sequences and dialogue are drawn directly from contemporary accounts, minutes of the Congressional sessions, and the correspondence of John Adams and his wife, Abigail. A charming score, bold dramatic scenes, and memorable characters make 1776 one of the classics of the musical stage.

The cast list includes Wabash students: Andrew Dits as John Hancock; Greg Strodtman as Dr. Josiah Bartlett; Jason Roberts as John Adams; Terry Archambeault as Stephen Hopkins; Tom Elliott as Roger Sherman; Nick Kraynak as Lewis Morris; Tyler Bernet as Robert Livingston; Kyle Cassidy as Rev. Jonathan Witherspoon; Wayne Lewis as Benjamin Franklin; Denis Farr as John Dickinson; Jim Stephens as James Wilson; Tyler Williams as Caesar Rodney; Peter Wagner as Col. Thomas McKean; Ben Cunningham as George Read; Clifford Lee as Samuel Chase; Chris Mehl as Richard Henry Lee; Sterling Carter as Thomas Jefferson; Matt McKay as Joseph Hewes; Austin Crowder as Edward Rutledge; Nelson Barre as Dr. Lyman Hall; Ryan Champion as Charles Thomson; Richard Winters as Andrew McNail. In addition, Wabash students, Filip Drambarean and Blake Meadows have been cast in the play. Crawfordsville residents Abby Gillan will play Abigail Adams and Carrie Macy will play Martha Jefferson.

James Fisher is the director with Teresa O'Connell as the musical director. Scene and lighting designer is James Gross, costumes by Laura Conners, choreographer by Dana Warner Fisher, assistant director by Brett Gann, and stage manager, Donald Claxon.

In 2004-2005, seating for Theater productions will be by general admission, though free tickets are required for Theater productions.

For tickets contact the Fine Arts Center Box Office by email at boxoffice@wabash.edu; phone: 765-361-6411; or by mail at Fine Arts Center Box Office, Wabash College, P.O. Box 352, Crawfordsville, IN 47933-0352. Box Office hours are Monday through Friday, 8:30 a.m. to 12 noon and 1:30 to 4 p.m. The box office will open 90 minutes before curtain time for Visiting Artists events. Tickets not claimed at the Box Office 10 minutes prior to curtain will be released to the general public.

Other theater productions for the 2004-2005 season include: Studio One-Acts on November 12-13; The Vaudevilles of Chekhov on February 23-26; and Take Me Out on April 20-23.