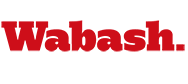 Fiction Reading by Wabash Senior Jacob Rump
by Karen Handley

September 28, 2004

Get directions to Wabash College Center Hall

Crawfordsville, IN — Wabash College senior Jacob Rump, winner of the 2004 Hockenberry Summer Internship, will read from his fiction on Thursday, September 30 in Center Hall, room 216 at 8 p.m.

The Hockenberry Summer Internship was instituted by award-winning fiction writer Dan Simmons '70 to provide a generous living stipend, personal computing support, library space, and campus housing for eight weeks to an outstanding writer of fiction.

The reading is free and open to the public.