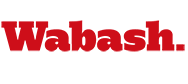 Wabash Dedicates Hays Hall in Honor of Tom Hays '55
by Jim Amidon

September 18, 2004

Get directions to Wabash College Hays Science Hall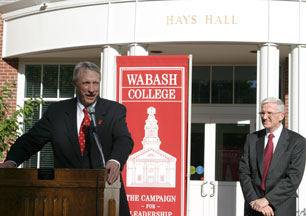 Tom Hays has been associated with Wabash College for more than 50 years. On Friday, his emotions were on full display as he, along with 13 members of his family, were honored when President Andy Ford dedicated the College's new $30 million biology and chemistry building "Hays Hall."
Tom Hays came to Wabash in 1951 from Wabash High School in Wabash, Indiana. Like so many other men from that era, the difference for him was a scholarship that he got from Wabash for something like $250.
The Wabash experience changed his life.
He was a good student, who majored in economics and was treasurer of Beta Theta Pi. He married his wife of 50 years, Sue, while still a student. Upon graduation in 1955, it was another Wabash man, Frank Misch, who made a few phone calls on Hays' behalf that landed Tom his first job. The rest is history.
He went on to become a giant in retail, serving as president and chairman of Venture Stores, the Hecht Company, and eventually with the May Department Stores Company. When he retired in 1996 as deputy chairman of May, he should have permanently relocated to Hilton Head to play golf in his twilight years.
Instead, he came back to work for Wabash.
He accepted the College's offer to serve as chairman of the Campaign for Leadership in 1997. Over the course of seven long years, he guided the campaign, motivated volunteers, and asked countless alumni and friends to do their part for Wabash.
He could have been playing golf.
When, in the spring of 2001, the Trustees, having completed a strategic planning process, bumped the campaign goal from $100 million to $132.5 million, Hays could have said "no thanks." But he didn't. He kept on guiding, motivating, and asking.
When terrorists ripped our nation apart later that fall and the stock market hit the tank, Hays could have given up and hit the golf course. But he didn't. He kept on guiding, motivating, and asking.
So it was a very good day for Tom Hays and his family on June 30, 2004 when the Campaign for Leadership reached its conclusion, having surpassed its goal with a total of $136.1 million in gifts and pledges. Leave it to Tom to motivate us all to reach higher and farther than we ever thought we could.
Now back to Friday night: With the sun setting over Sparks Center, illuminating the golden letters reading "Hays Hall," Tom took off his glasses and peered into the crowd of hundreds who had gathered to celebrate the event. And he thanked them. He thanked them for the honor, but moreover he thanked them for doing their part to make the campaign a success.
For it never was about Tom. It was about Wabash students, and providing for them opportunities we could never have imagined when we started out seven years ago.
By the time the unveiling had ended, we could hear whistles from the football field as more than 250 youngsters came out to take part in the Youth Football Clinic in the stadium.
It was a perfect segue way: Hays loves kids. Had he not attended a dinner in his honor, I imagine he would have been out on the field cheering on Montgomery County kids (and trying to convince them to one day go to Wabash).
And Saturday was Community Day when the College opens itself to the people of this county to join in celebration. It was a perfect ending to the "Hays weekend" and, honestly, to the Campaign for Leadership.
You see, Hays came from a town much like ours. He had a big family, much like yours. He took some knocks, served in the Marines, and worked his way up the ladder.
His first gift to Wabash was for $15. Today he has given us far more than millions of dollars. He has given us a vision for what all of us might become with hard work and perseverance. He has shown what all of us might do for others, for our schools, and for our communities.
It's really remarkable for me to reflect on how far Wabash and this community have come together in such a short period of time.
Thanks, Tom, for doing your part.
And now, if his loving wife Sue will let him, it's time for Tom to play some golf.