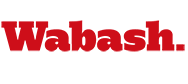 2004-2005 Visiting Artists Series Announced at Wabash College
by Karen Handley

August 26, 2004

Get directions to Wabash College Fine Arts Center

Wabash College is pleased to announce eight Visiting Artists Series events for the 2004-2005 year.

In 2004-2005, seating for Visiting Artists Series events will be by general admission, though free tickets are required for Visiting Artists Series programs

Tickets for Fall Semester events will be available September 1, 2004. Tickets for Spring Semester events will be available on January 26, 2005.

Contact the Fine Arts Center Box Office by email at boxoffice@wabash.edu; phone: 765-361-6411; or by mail at Fine Arts Center Box Office, Wabash College, P.O. Box 352, Crawfordsville, IN 47933-0352. Box Office hours are Monday through Friday, 8:30 a.m. to 12 noon and 1:30 to 4 p.m. The box office will open 90 minutes before curtain time for Visiting Artists events. Tickets not claimed at the Box Office 10 minutes prior to curtain will be released to the general public.

Thursday, September 23, 2004
Butler Composers Orchestra and Butler Chamber Dance present Brave New Whirl, 8 p.m., Salter Concert Hall, Fine Arts Center

The Butler Composers Orchestra and Butler Chamber Dance pair up to present a lively evening of new music and dance performed by Butler University students and staff. The performance will feature pieces that reflect the experimental aesthetic and bold innovations in the late 20th century.

Wednesday, September 29, 2004
Preservation Hall Jazz Band, 8 p.m. College Chapel

The spirit of the French Quarter is captured in the New Orleans jazz performed by this legendary improvisatory group. Unobscured by complicated arrangements, the greatness of their sound emerges from its timeless simplicity--its impact on an audience is joyous and infectious.

Wednesday, October 20, 2004
Jupiter String Orchestra—Fischoff Chamber Music Contest Winners in Concert, 8 p.m. Salter Concert Hall, Fine Arts Center

Joseph E. Fischoff and the South Bend Chamber Music Society founded the Fischoff National Chamber Music Competition in 1973 as a way of encouraging young people to pursue chamber music study and performance. Each year, the Grand Prize-winning ensemble tours the country. Wabash is proud to welcome the Jupiter String Quartet, the 2004 winners, a string quartet from the Cleveland Institute of Music.

Friday, October 22, 2004
Timothy Mooney in Moliere Than Thou, 8 p.m. Ball Theater, Fine Arts Center

In a highly entertaining one-man show, celebrated actor Timothy Mooney brings to life Jean-Baptiste Poquelin, better known as Molière, the legendary actor and playwright of the 17th century Parisian theater. Mooney's performances have been hailed as "a delight to watch" (Orlando Sentinel) and an evening that keeps the audience "enthralled" (NYTheatre.com).

Thursday, October 28, 2004
Actors from the London Stage presents A Midsummer Night's Dream, 8 p.m. Ball Theater, Fine Arts Center

As part of a week-long residency working with Wabash theater students, actors from The London Stage present an actor-centered performance of William Shakespeare's immortal comedy, A Midsummer Night's Dream. Actors from The London Stage is a unique program based at the University of Notre Dame that combines the superb talents of professional actors with theater students to bring to life Shakespeare's plays.

Monday, November 8, 2004
The Guerilla Girls, 8 p.m. Salter Concert Hall, Fine Arts Center

Co-sponsored by the McGregor Visiting Artist/Scholar Fund, The Guerilla Girls have been stirring up audiences with presentations and workshops in full jungle drag. They have appeared at schools, museums, and organizations of all types, in almost every state in the U.S. and on nearly every continent, using facts, humor, and fake fur to fight discrimination in culture and politics. Mark your calendars for this "can't miss" performance.

Wednesday, February 16, 2005
Kurt Ollmann, baritone, 8 p.m. Salter Concert Hall, Fine Arts Center

A program of art songs will be performed by this acclaimed young artist who first came to prominence singing the role of "Riff" on the Deutsche Grammophon recording of West Side Story under Leonard Bernstein's baton. Ollman has sung Pelléas at La Scala under Abbado, the Count in Figaro at the Opera Theater of St. Louis, and Don Giovanni in the original Peter Sellars' production at Pepsico Summerfare, as well as in numerous opera houses and concert venues around the world.

Tuesday, April 5, 2005
American Brass Quintet, 8 p.m. Salter Concert Hall, Fine Arts Center

Universally hailed as today's leader in the field of serious brass chamber music, the American Brass Quintet has performed worldwide during its 43-year history. With a discography of over 50 recordings and the premieres of over 100 works to their credit, the group will perform a varied concert of classics and newer selections.