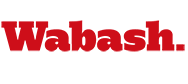 Wabash Improves in National Rankings
August 20, 2004


Wabash College remained in the top tier in U.S. News & World Report's annual rankings, marking the fourth straight year Wabash has been ranked among the top 50 national liberal arts colleges.

"I think it's important to rank in the top tier because families use the rankings to sort out their options," says Wabash College Dean of Admissions Steve Klein.

Wabash ranked 48th in this year's U.S. News & World Report College Guide up two spots from last year. Wabash improved its scores in several categories of the overall national ranking, including graduation rate and freshman retention.

The weekly newsmagazine categorizes national liberal arts colleges as the 217 liberal arts colleges that emphasize undergraduate education and award at least half of their degrees in the liberal arts disciplines. Williams College, Amherst College, and Swarthmore College were U.S. News & World Report's top three national liberal arts colleges.

"Wabash gains national visibility from these rankings, which allow us to enter into conversations with families about the opportunities available through a Wabash education. Certainly the rankings are helpful on a national level," adds Klein.

U.S. News also ranked Wabash sixth among national liberal arts colleges in its "Best Value" rankings. The newsmagazine describes its "Best Values" selections as relating "a school's academic quality, as indicated by its U.S. News ranking, to the net cost of attendance for a student who receives the average level of financial aid." Wabash is the only Indiana college listed among the top-20 "Best Values."

Wabash also shines brightly in this year's Princeton Review's Best 357 Colleges rankings, earning top-10 marks in eight categories and top-20 rankings in 10 categories. The Princeton Review rankings are based on student survey responses from more than 125,000 college students nationwide.

Wabash's academic program was well rated. Wabash ranked fifth in the category "Professors get high marks;" eighth in "Students never stop studying;" 10th in "Professors make themselves accessible;" and 11th in "Best overall academic experience for undergraduates."

Additionally, Wabash ranked second nationally in Princeton Review's category "Best bargain colleges;" third in "Everyone plays intramural sports;" seventh in "Major frat and sorority scene;" ninth in "Students happy with financial aid;" ninth in "School runs like butter;" and 18th in "Lots of race/class interaction."

The Princeton Review rankings for good teaching and overall academic experience echo Wabash's top national rankings in the 2003 National Survey of Student Engagement (NSSE), in which Wabash set national benchmarks among liberal arts colleges.

"From a marketing perspective, the national rankings are helpful in drawing attention to Wabash when people otherwise might not recognize the outstanding academic programs available here," said director of public affairs and marketing Jim Amidon. "In recent years, many surveys like NSSE and Princeton Review have begun to ask students about their experiences, and Wabash has shined brightly in these rankings. NSEE and Princeton Review show us that Wabash students are happy with their college choice and getting the most out of their college experience."