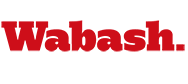 NAWM Elects Trustees, Alumni Board Members
by Jim Amidon

June 15, 2004

The National Association of Wabash Men (NAWM), the governing body of the Wabash College alumni association, announces results of its elections for alumni representatives to the Wabash College Board of Trustees and the NAWM Board of Directors.

Re-elected to four-year terms as Alumni Trustees were Dudley Burgess '64 and David Shane '70. Both men are serving their second terms as Alumni Trustees. Six members of the Board of Trustees are elected by the alumni.

Burgess is a resident of St. Charles, Illinois, and is the retired vice president of government affairs for A.T.&T. Corporation. He majored in English at Wabash, served as president of his fraternity, Beta Theta Pi, and was president of the Interfraternity Council. He is the past-president of the National Association of Wabash Men Board of Directors.

Shane, of Indianapolis, Indiana, is president of LDI Limited. He majored in English at Wabash and earned his law degree from Duke University. He previously was a partner in the Indianapolis law firm of Baker and Daniels. Shane received the Frank W. Misch Alumni Service Award from the NAWM in 2002.

Alumni re-elected the following men to serve three-year terms on the Board of Directors of the NAWM: Jay Fisher '66 (Grand Rapids, MI), Duane Hile '67 (Cleveland, OH), and Eric Rowland '86 (Indianapolis, IN), while electing for an initial term Brian Flanigan '96 (Chicago, IL). Ray LaDriere '78 of Dallas Alumni Association was appointed as a Regional Alumni Association Representative to the NAWM Board.

Alumni also re-elected Charlie Finch '51 (St. Louis, MO) to the Board of Directors of the NAWM, but Finch passed away in June of a sudden heart attack.

"Our alumni appreciate the opportunity to play a key role in selecting alumni leadership," said Tom Runge '71, director of alumni affairs at Wabash. "Alumni from classes as far back as 1927 to 2003—a span of 76 years—voted in both Alumni Trustee and NAWM Board elections. In both cases, Wabash was fortunate to have a complete slate of highly talented men willing to serve the College in these important positions."

The Board of Trustees and Board of Directors of the NAWM meet on campus three times each year to work with College officials to advance the mission of Wabash College. The NAWM Board is also involved with honoring alumni with the Alumni Awards of Merit; selecting candidates for the Athletics Hall of Fame; and choosing honorary alumni of the College.