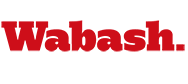 Larry Frye Named Sagamore of the Wabash
by Jim Amidon

June 2, 2004

Long-time Crawfordsville resident Larry Frye, head librarian at Wabash College, has been named a Sagamore of the Wabash by Indiana Governor Joseph Kernan.

The Sagamore of the Wabash award was created during the term of Governor Ralph Gates, who served from 1945 to 1949, and has been presented by every Indiana governor since. It is the highest honor an Indiana governor can bestow on a citizen and is a personal tribute usually given to those citizens who have rendered a distinguished service to the state or to the governor. The term "sagamore" was used by the American Indian Tribes of the northeastern United States to describe a lesser chief or a great man among the tribe to whom the true chief would look for wisdom and advice.

Frye was presented the honor by Manchester College Library Director Robin Gratz at the annual meeting of the Indiana Cooperative Library Services Authority (INCOLSA). INCOLSA serves 768 member institutions, including 313 school corporations, 233 public library systems, 136 special libraries, and 86 colleges and universities. These member institutions represent more than 2,200 libraries throughout Indiana.

Frye helped establish the Private Academic Library Network of Indiana (PALNI), a consortium of 26 private colleges, seminaries, and universities, and has served as an officer of PALNI. He also has served as chair the INCOLSA advising committee, which led to the state-funded INSPIRE (Indiana Spectrum of Information Resources) databases available to all citizens of the state (10 million articles retrieved last year). 

Manchester Vice President for Academic Affairs Dr. Jo Young Switzer nominated Frye for the honor, while academic library director colleagues from around the state contributed supporting letters. In nominating Frye, Dr. Switzer wrote, "I realize all these cooperative ventures have allowed Manchester and other Indiana private colleges to better provide library support for their students and faculty far beyond what they can do afford alone."

Frye has been head librarian at Wabash College since 1980. He received his bachelor of arts degree from Bethany College magna cum laude and earned his master's degree in library science from Rutgers University. He also was a Woodrow Wilson Fellow at the Yale University Divinity School.

In 2001 Frye was honored with the Hugh Atkinson Award by the American Library Association, an award that honors an academic librarian who has made the most significant contributions to library automation and management. He also has received awards from the Indiana Library Federation and INCOLSA for his service to PALNI and INCOLSA.

Away from his work, Frye has been an active and involved member of the Montgomery County Community, coordinating the MUFFY Residential Fund Drive and leading local Habitat for Humanity efforts. He is a member of the Ouiatenon Club, Kiwanis Club, and First Christian Church. He also chairs Wabash's Community Service Committee.

Frye and his wife, Barbara, are the parents of three grown children.