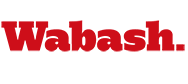 Wabash's Student Journalists Clean Up at ICPA
by Jacob Pactor

April 8, 2004

For the third consecutive year, The Bachelor, the voice of Wabash since 1908, came away from the Indiana Collegiate Press Association's (ICPA) annual convention with a second place finish in its division, non-daily newspapers at schools with fewer than 2,000 full-time students. However, The Bachelor, carried out some unexpected hardware by earning the 2004 Online Publication of the Year, beating Ball State's Daily News and Norte Dame's The Observer.

Since 2002, when The Bachelor first competed in the annual competition, the staff has garnered more than 40 wards for journalistic excellence. This year, 17 staff members walked away with 23 awards from nearly every category.

"When we first competed three years, I was shocked we finished second," former Editor Jacob Pactor said. "Now, we expect to win, so it's a bit disappointing to finish second again. But three consecutive second places finishes is a testament to our staff's dedication and Wabash's ability to prepare well-rounded men.

The Bachelor won third place for best single issue, its coverage of the 110th Monon Bell Classic and first and third places for best special issue, its 2002-2003 Year-in-Review and 2003-2004 Orientation issues.

Ryan Smith, currently attending Columbia Journalism School, won first place in best breaking news reporting for "Alcohol Drowns Out Honor Scholarship Weekend." Sean Gallagher followed in second place with "SSAC Tickets Scalped."

Dunmomi Owolabi took third place honors for best non-deadline news reporting with "Study Suggests Division III Sports Tainted." Though currently attending Indian University-Bloomington Law School, Adam Christensen won the best news feature category with "For Some, School Doesn't Come First."

The spring 2003 editorial team of Jacob Pactor, Ryan Smith, Matt Ward and Steve Andrews finished in second place for best staff editorial with "Gentlemen, It's Only A Game."

For their coverage of Wamidan, the team of Tim Flowers, Shay Atkinson and Jacob Pactor took second place for best inside page.

The Bachelor staff also dominated sports and photography categories.

First-year writer Aaron Nicely won third place for best sports news with "Rugby Scrums, Rucks Hard At Patty." And freshman Dan McGraw and senior Matt Abid swept the best sports feature category with "For Some, School Doesn't Come First" and "Clifton Receives Another Chance."

Jeff Brown took home first place best news photo honors with "Pumpkin Carving," while Todd Vogel received first place best sports photo and third place best photo essay awards for "Miller Head-lock" and "Chapel Sing."

Jacob Pactor won third place for best informational graphic. Dick Page won third place for best editorial cartoon, "Unfair Funding." Gallagher won first place for best illustration, "Acme Beer Goggles."

In the separate online newspaper awards, pitting daily newspaper against non-daily newspapers, The Bachelor won first place honors. Though awards were accredited to The Bachelor, Stephen Dewart designed the website – http://bachelor.wabash.edu. Dewart and The Bachelor received third places in best home page nameplate and best homepage overall design and first places in best use of multimedia and best special presentation.

Competing against students from Ball State, Indiana University and Indiana State, Pactor received third place honors for the Brook Baker Collegiate Journalist of the Year Award.

The judge, Monica Yant Kinney, a Philadelphia Inquirer columnist, wrote, "Jacob has guts. On a small, all-male campus like Wabash's he managed to tick off and taunt everyone from fraternity brothers to the college president. And somehow, even that college president winds up thanking him for being so provocative in his columns and in guiding the paper to tackle tough issues. Working without a formal journalism program, Jacob appears to have whipped the newspaper into a lean, mean fighting machine.

Thirty-six publications from 22 colleges and universities compose the 44-year-old ICPA.