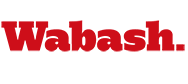 Returning in a New Role
March 25, 2004

Nate Quinn '00 was an exceptional and promising young artist when he graduated from Wabash, and he's continuing his work in New York and is also working on sets for Broadway shows.

But Quinn returned this fall in a new role—as teacher and judge at the Art Department's 2003 Art Bash, which drew educators from around the state and this year attracted promising high schoolers from across the region for a juried exhibit called "Safe Haven."

Here Quinn critiques the work of one of the 39 contestants. Earlier, he joined advertising executive Tom Denari '85, architect Robbie Brundige '91, and graphic designer Chris Rozzi '90 at a panel presentation where alumni explained how art has informed their careers.